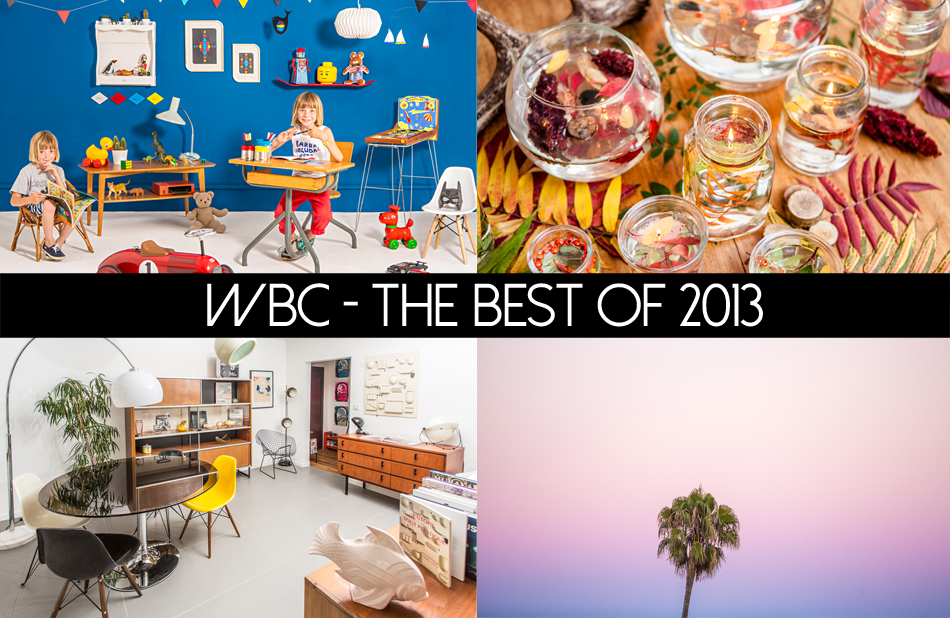 On espère que vous avez passé de merveilleuses fêtes! On vous souhaite encore une belle et heureuse année remplie de bonheur! Avant de reprendre le cours normal de nos programmations, on a eu envie de faire un petit Best Of 2013 de nos articles préférés! Voici donc le top 3 par catégories!
Scénographie:
1/ Blue Room: Une décoration pour une chambre de garçon
2/ Jungle: Une mise en scène pour une chambre de fille
3/ Dream On: Un joli décor vintage
Do It Yourself:
1/ Magic Candles: Une idée déco pour faire des bougies magiques
2/ Mobile Tropical: Un tutoriel pour réaliser des guirlandes de fleurs
3/ Flowers Boots: Un DIY pour customiser ses chaussures
Voyage:
1/ It's Free Universe: Le deuxième jour de notre road trip en Californie
2/ On the Road 66: Le troisième jour de notre voyage aux USA
3/ Istanbul: Notre escapade en Turquie
Interview:
1/ Bienvenue chez deux passionnés: La visite d'un très bel appartement design
2/ Tea Time Shop: A la découverte d'un superbe salon de thé
3/ Hikari Shimoda: A la rencontre d'une artiste japonaise
Drink & Food:
1/ Tetris Party: Une recette de loukoums animés
2/ Ginger Mint: Un soft drink rafraîchissant
3/ It's Salep Time: Une délicieuse boisson turque
Et vous, qu'est ce que vous avez préféré en 2013? Quels ont été vos articles coups de cœur? Quelle catégorie aimez-vous le plus? D'ailleurs, on en profite pour vous demander ce que vous aimeriez voir cette année sur le blog? On est ouverts aux suggestions, donc n'hésitez pas à nous faire part de vos envies, c'est le moment!
On revient vite avec des nouveautés: un DIY déco, la suite de nos aventures aux States, un shooting mode et plein d'autres jolies choses!
Encore merci pour cette belle année passée en votre compagnie!
Photos © Christophe Levet
English version: We hope you spent wonderful Holidays! We wish you again an Happy New Year! We have made a small 2013 Best Of of our favorite posts! Here are the top 3 by categories!
Set Design:
1 / Blue Room: A decoration for a boy's room
2 / Jungle: A decoration for a girl's room
3 / Dream On: A vintage decor
Do It Yourself:
1 / Magic Candles: A decoration idea to make magic candles
2 / Mobile Tropical: A tutorial for making garlands of flowers
3 / Flowers Boots: A DIY to customize shoes
Travel:
1 / It's Free Universe: The second day of our road trip in California
2/ On the Road 66: The third day of our trip to the USA
3 / Istanbul: Our trip to Turkey
Interview:
1 / Design: The visit of a very nice flat
2 / Tea Time Shop: The discover of a beautiful tearoom
3 / Hikari Shimoda: Meet a Japanese artist
Food & Drink:
1 / Tetris Party: A recipe of Turkish Delight
2 / Ginger Mint: A refreshing soft drink
3 / It's Salep Time: A delicious hot drink
And you, what is your favorite post in 2013? Which category do you prefer? We take this opportunity to ask you what you would like to see this year on the blog? We are open to suggestions, so do not hesitate to let us know your desires!
We come back soon with a deco tutorial, the following of our adventures in the Unites States, a fashion shoot and lots of other nice things!
Thank you for this wonderful year spent in your company! 
Photos © Christophe Levet
You might also like