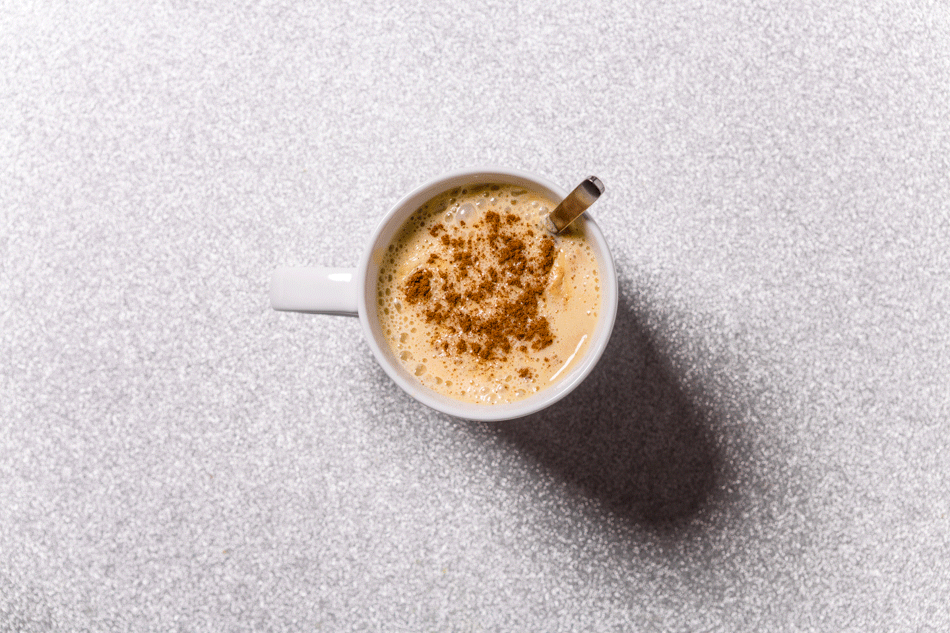 Inspirés par notre voyage à Istanbul, nous vous avons montré comment faire de jolis loukoums tout en jouant à Tetris! Vous ne voyez pas le rapport, c'est normal! On vous invite donc à découvrir notre article pour en savoir un peu plus!
Lors de ses quelques jours en Turquie, nous ne nous sommes pas simplement régalés de loukoums, nous avons aussi succombés au Salep.
Cette boisson chaude traditionnelle turque, tient son nom d'une orchidée dont la farine de ses tubercules permet sa préparation. La fabrication industrielle de cette boisson énergisante ayant raréfié la plante, ses bulbes sont désormais interdits à l'exportation en Turquie.
Mais on vous a trouvé une délicieuse petite recette alternative pour palier à ce manque! Allez, pour changer un peu du thé et du café, le Salep est la boisson idéale, à déguster au coin du feu pendant les longues journées d'hiver. Noël approche, les vacances aussi, profitez-en!
Pour faire 3 gros mugs de Salep, il vous faut:
1 l de lait ou boisson végétale type lait de soja ou d'amande
2 cuillères à soupe de farine de riz pour remplacer la farine de tubercules d'orchidée
4 cuillères à soupe de sucre roux
2 cuillères à soupe d'eau de fleur d'oranger
De la cannelle en poudre
Comment procéder:
Délayer la farine de riz avec un peu de lait dans un bol jusqu'à ce que le mélange se transforme en une pâte liquide.
Verser le reste du lait dans une casserole et porter à ébullition. Surveiller la cuisson et faire attention à la montée du lait!
Retirer du feu et ajouter la farine de riz précédemment délayée, le sucre ainsi que l'eau de fleur d'oranger.
Remettre à feu doux jusqu'à ce que la préparation épaississe.
Verser dans une tasse, décorer d'une pincée de cannelle et servir!
Régalez-vous!
Pour voir la recette des loukoums : Turkish Delight
Pour découvrir nos autres recettes : FOOD
 Photos © Christophe Levet – Wild Birds Collective
English version: Inspired by our trip in Istanbul, we showed you how to make beautiful Turkish delight while playing Tetris! You don't see the relationship between both? Yes, we have crazy ideas! 🙂 We invite you to discover our article to learn a little more!
During this few days in Turkey, we enjoyed Turkish delight but also succumbed to the Salep.
This traditional Turkish hot drink, takes its name from an orchid. The orchid tubers flour allows its preparation. The industrial production of this energy drink have made rare this plant. Now, Turkey can't export its bulbs.
But we found a delicious recipe to solve this problem! Instead of tea or coffee, Salep is the perfect drink for winter days. Christmas is coming, the holidays too, enjoy!
For 3 large mugs of Salep, you need:
1 liter of milk or vegetable drink like soy milk or almond
2 tablespoons rice flour instead orchid tubers flour
4 tablespoons brown sugar
2 tablespoons orange flower water
Some cinnamon powder
How to proceed:
Dissolve the rice flour with a little of milk in a bowl until the mixture becomes a liquid slurry.
Pour the remaining milk in a saucepan and bring to a boil. Watch the cooking and be careful to the rise of milk!
Remove from heat and add the rice flour previously diluted, sugar and orange blossom water.
Put on low heat until thickened preparation.
Pour into a cup, garnish with a pinch of cinnamon and serve!
Enjoy!
To see the recipe for Turkish delight: Turkish Delight
To see our other recipes: FOOD
 Photos © Christophe Levet – Wild Birds Collective
You might also like