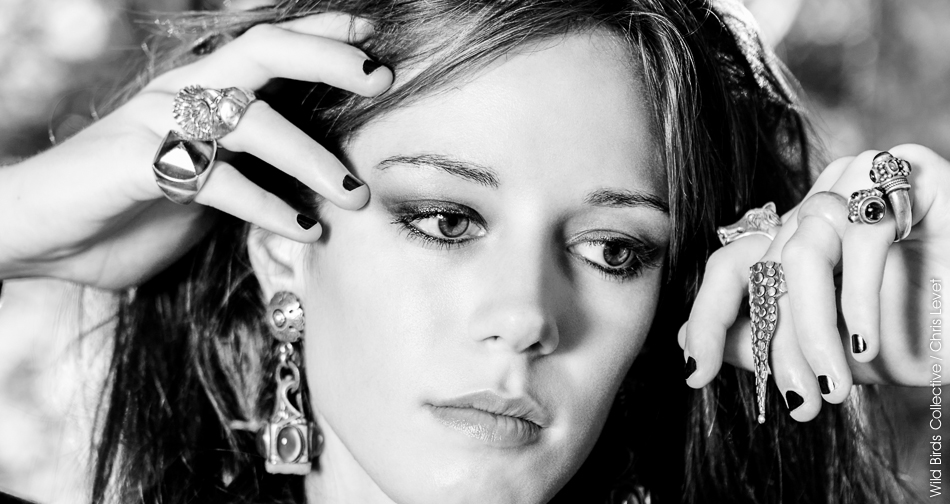 Nous avons réalisé notre dernier shooting mode et beauté, que vous pouvez découvrir ici, en pleine nature. L'accent devait être mis sur les bijoux et le visage de notre jolie modèle lors de cette séance photo. Aussi, nous souhaitions un maquillage naturel qui sublimerait notre mannequin sans pour autant lui voler la vedette. Nous avons donc choisi de réaliser un teint et une bouche claire mais soutenu par un regard intense! Et quoi de mieux qu'un joli smoky pour souligner les beaux yeux noirs de Pia.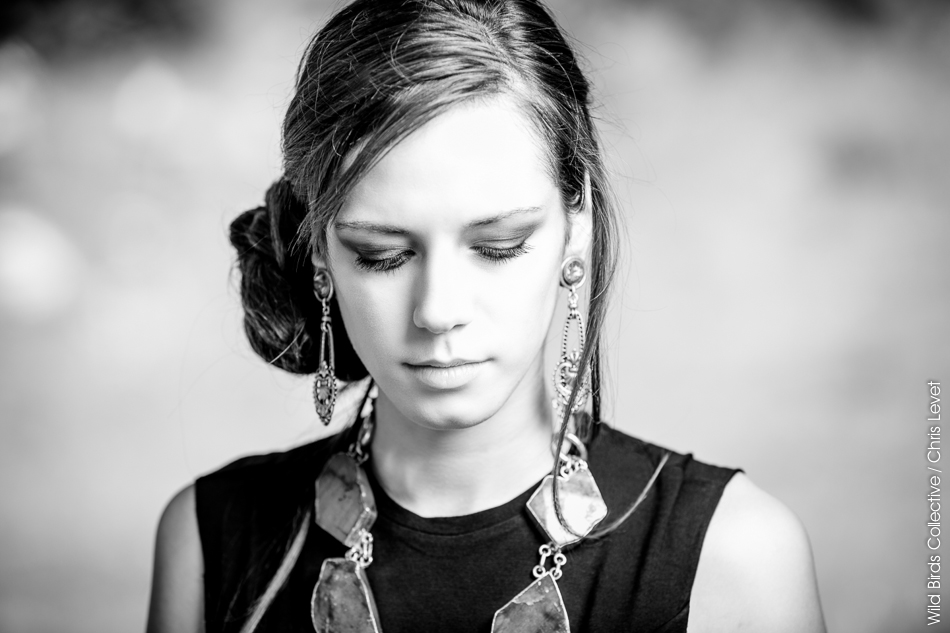 Aujourd'hui, on vous explique comment réaliser facilement un smoky eyes, pour un regard intense en 7 étapes!
Pour faire un smoky eyes, il vous faut:
Comment procéder:
Après avoir travaillé votre teint, commencez par crayonner la paupière mobile de l'œil à l'aide du crayon noir. Partir de l'intérieur de l'œil au ras des cils en allant vers l'extérieur dans un mouvement ascendant.
Puis, utiliser l'ombre à paupières noire pour recouvrir et fixer le crayon gras. Toujours en partant de l'intérieur de l'œil vers l'extérieur dans un mouvement ascendant.
Ensuite, estomper le haut de la paupière mobile avec un fard de couleur chair jusqu'au sourcil.
Souligner alors le dessous de l'œil avec l'ombre à paupières noire.
Pour intensifier le regard, maquiller à l'aide du crayon noir l'intérieur de la goulotte de l'œil.
Tracer ensuite un trait d'eyeliner noir au ras des cils sur la paupière mobile.
Et enfin, déposer du mascara noir sur les cils supérieurs et inférieurs.
Quelques conseils supplémentaires:
Pour un fini parfait vous pouvez, avant de commencer le maquillage, déposer de la poudre libre sous l'œil. Puis, l'estomper une fois le maquillage terminé. Cela permettra d'éviter que les particules de fard à paupières sombre ne viennent abimer le teint.
Eviter le smoky eyes les jours de grosse fatigue.
Bien soigner votre teint.
Une bouche rouge est plus sophistiquée, nous lui préférons une bouche discrète.
Vous pouvez utiliser de l'ombre grise à la place du fard à paupière noir pour une finition plus douce.
Et voilà, vous avez un joli smoky eyes!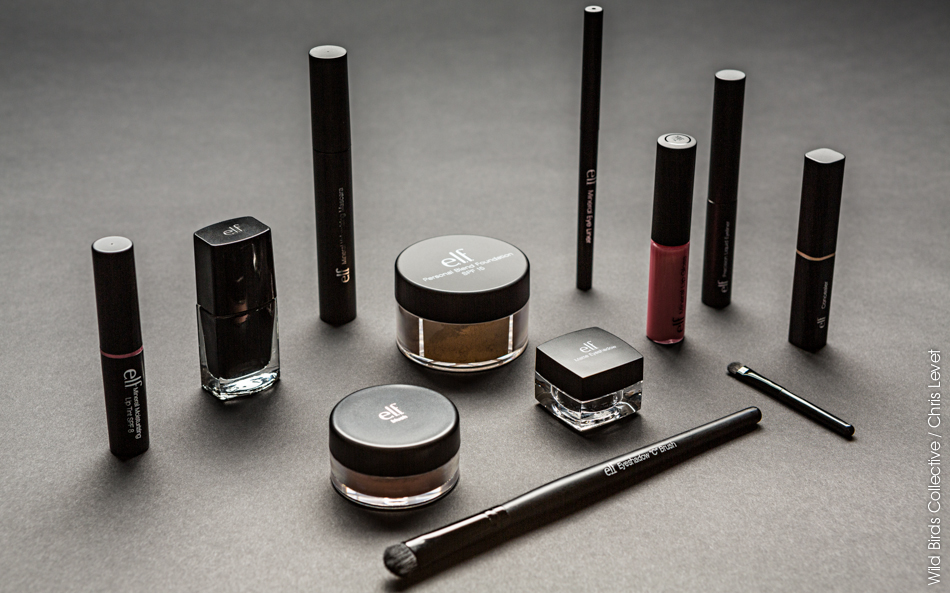 Pour réaliser ce maquillage, nous avons choisi nos produits de beauté chez notre partenaire Eyes Lips Face (E.L.F). Nous avons fait le choix de cette marque de make up pour ses petits prix, la qualité de ses produits et son absence de tests sur les animaux!
Voici les produits que nous avons utilisé: Anti-cernes Studio : Beige – Fond de Teint « Sur Mesure » SPF 15 : Medium – Blush Minéral : Bonheur – Eyeliner Liquide Haute Précision : Black – Fard à Paupières Mat : Charcoal – Mascara Mineral Volume : Black – Eyeliner Minéral : Black – Baume Hydratant Teinté SPF 8 : Blush – Gloss Minéral : Pageant Princess – Vernis à ongles : Noir
Pia, notre modèle, porte de merveilleux bijoux anciens en argent et des pièces de créateurs gentiment prêtés par la très belle boutique Rose Pâle (rue Lakanal à Grenoble). Ainsi, que deux robes achetées chez Asos.
Photographies : © Christophe Levet
Stylisme mode et décoration : Alexandra Sauvage & Violaine Rattin
Coiffures : Patrick Mazzili – Hunky Punky
Mise en beauté : Alexandra Sauvage
Modèle : Pia
Post production : Christophe Levet & Violaine Rattin
English version: For our last fashion and beauty photoshoot, we choose to focus on the jewelry and the face of our beautiful model. Also, we wanted a natural makeup to sublimate our model without upstaging her. We have therefore chosen to achieve a light skintone but supported by an intense look! And what better than a nice black smoky eyes to highlight the beautiful Pia's eyes. So, today, we explain you how to easily create a smoky eyes for an intense look!
To make a smoky eyes, you need:
How to proceed:
After working your skintone, start by sketching the eyelid of the eye with the black pencil. From the inside of the eye outward in an upward motion. 
Then, use the black eyeshadow to cover and secure the pencil. Always starting from the interior of the eye to the outside in an upward motion. 
Then, you must shade off the top of the eyelid with a flesh-colored eyeshadow up to eyebrowns. 
Then, underline the underside of the eye with black eyeshadow. 
To intensify the look, make up with the use of the black pencil inside of the eye on the lower eyelid. 
Then draw a line of black eyeliner along the lash line on the superior eyelid. 
And finally, put black mascara on upper and lower lashes.
Some additional tips:
For a perfect finish, before starting makeup, put some loose powder under the eye. When the make up is done, shade off. This will prevent the particles of dark eyeshadows to damaging the skintone. 
Avoid the smoky eyes when you are tired. 
Take care of your skintone. 
A red mouth is more sophisticated, we prefer a discreet mouth with a smoky eyes. 
You can use a gray eyeshadow instead of a black eyeshadow for a softer finish. 
And voila, you have a nice smoky eyes!
To achieve this make up, we chose our partner Eyes Lips Face for the beauty products because of its low prices, the quality of its products and because they are cruelty free!
Here are the products we have used: Studio Concealer : Beige – Mineral Personal Blend Foundation : Medium – Mineral Blush : Bliss – Studio Precision Liquid Eyeliner : Black – Studio Matte Eyeshadow: Charcoal – Mineral Natural Volumizing Mascara : Black – Mineral Eye Liner : Black – Mineral Moisturizing Lip Tint SPF 8 : Blush – Mineral Lip Gloss : Pageant Princess – Essential Nail Polish : Black
Pia, our model carries wonderful old silver jewelry and some designer's jewels loaned by the store Rose Pâle. And two dresses purchased from Asos.
Photographs : © Christophe Levet
Styling and Decor : Alexandra Sauvage & Violaine Rattin
Hair : Patrick Mazzili – Hunky Punky
Make Up : Alexandra Sauvage
Model : Pia
Post production : Christophe Levet & Violaine Rattin
You might also like