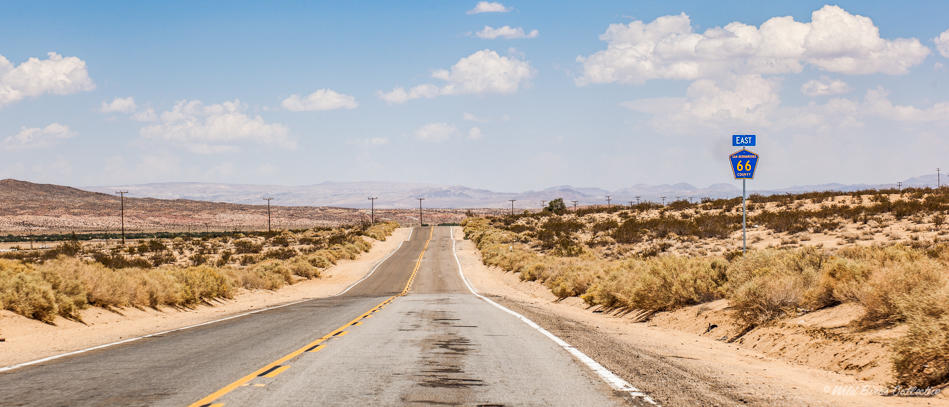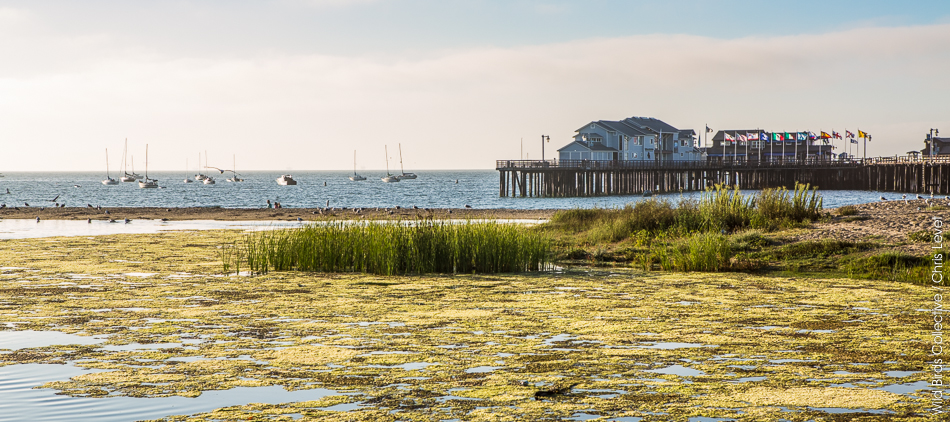 Au réveil de ce troisième jour de road trip sur le sol américain, on en profite pour faire quelques photos de la superbe caravane Airstream dans laquelle nous avons dormi. Si vous les avez manqué, vous pouvez les découvrir ici. Il est très tôt mais nous avons 700 kilomètres de route à avaler. Après avoir arpenter la région de Big Sur pour rejoindre la jolie ville de Santa Barbara sur la côte californienne, nous partons direction Williams dans l'Arizona!
Avant de quitter définitivement la ville, on ne résiste pas à l'envie de l'immortaliser, en commençant par la plage!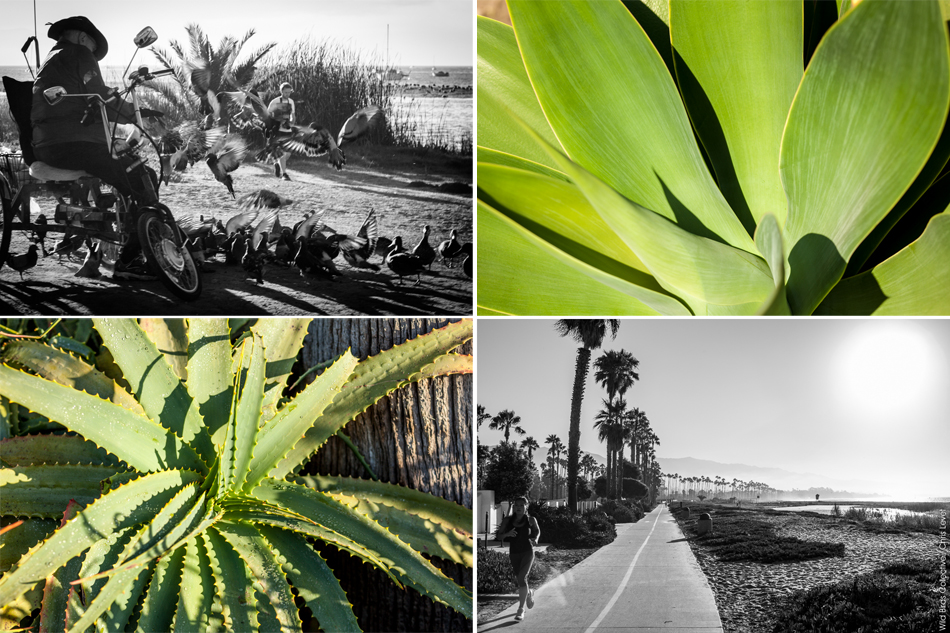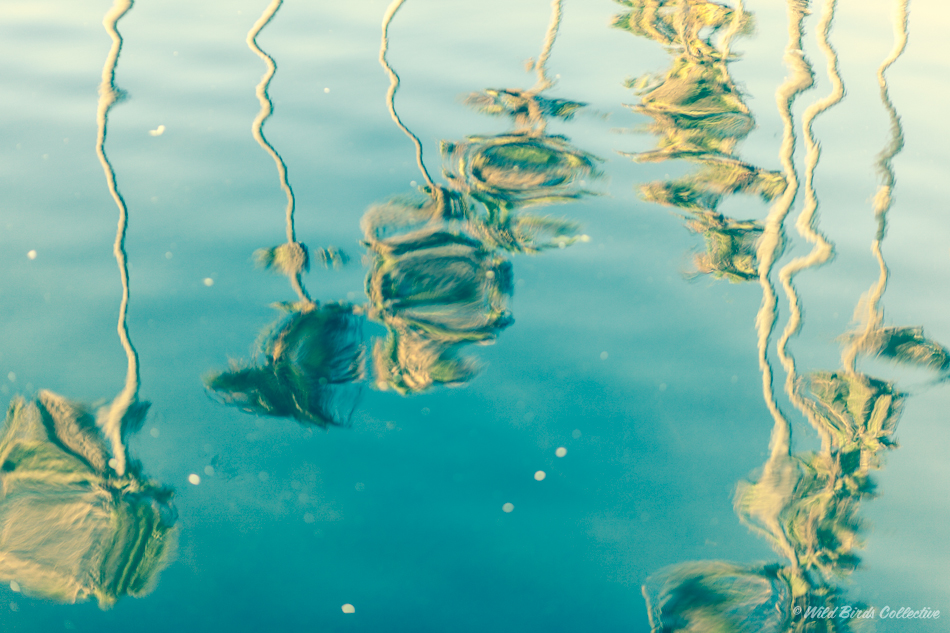 On regarde le soleil se lever sur la baie. Plantes grasses, skatepark, running, palmiers géants et l'océan…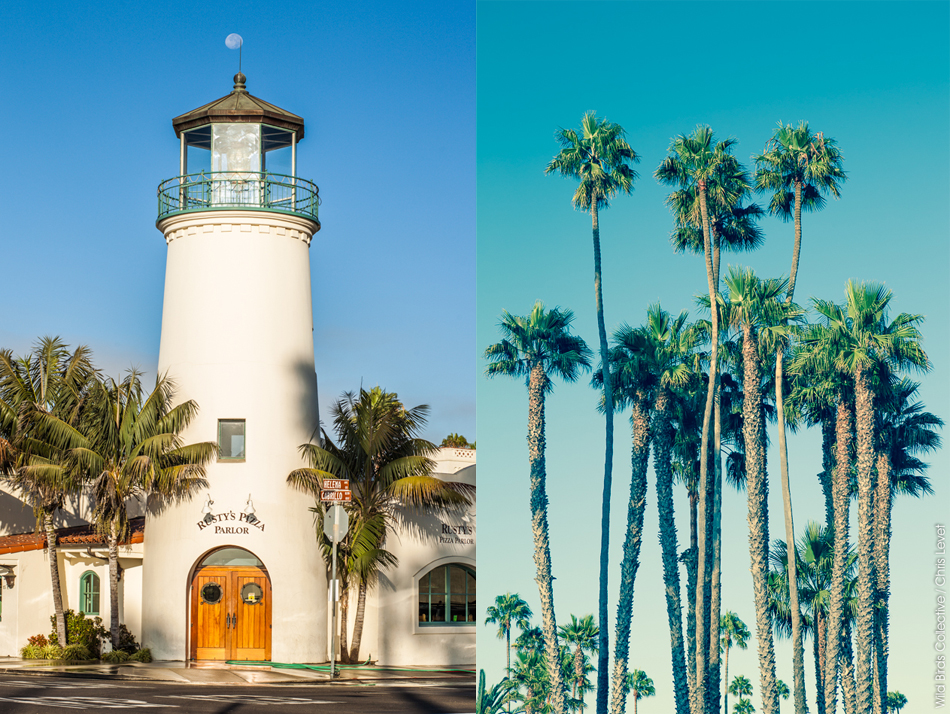 Derrière nous, un joli phare a été réhabilité en restaurant.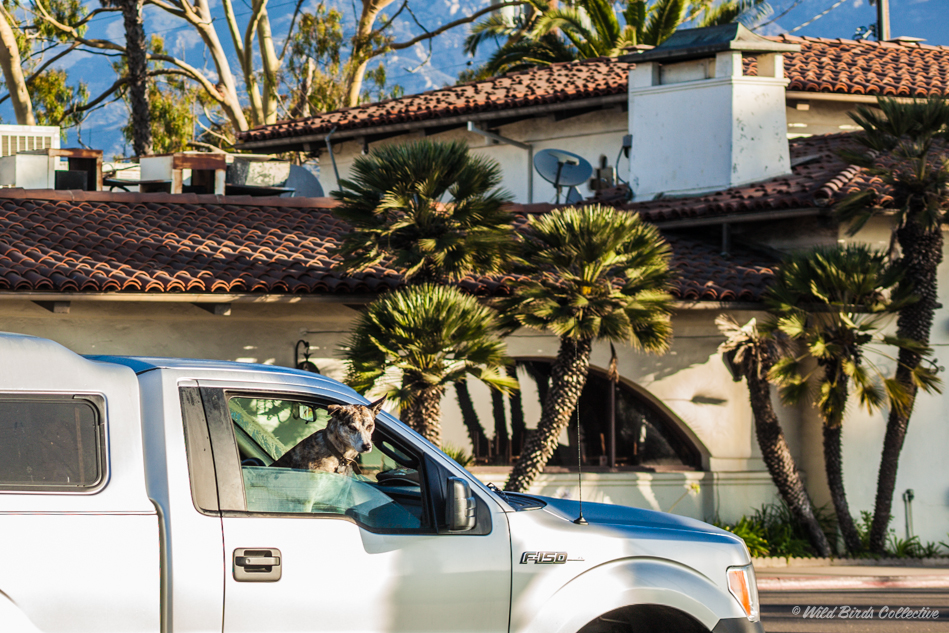 Ici pratiquement toutes les maisons sont blanches, leurs allées sont bordées de plantes tropicales, de cactus, de palmiers et de fleurs. La ville est hyper agréable, presque parfaite.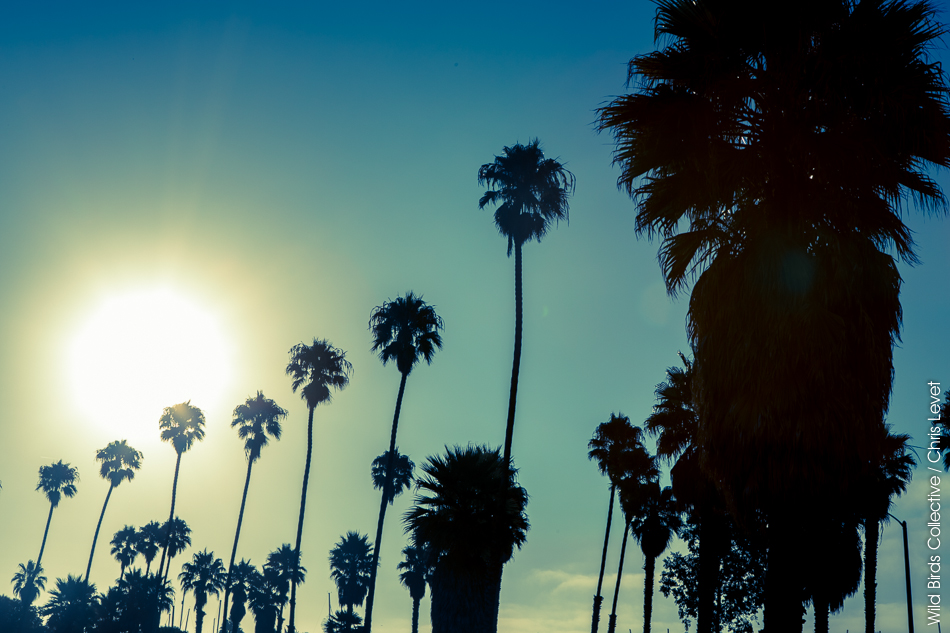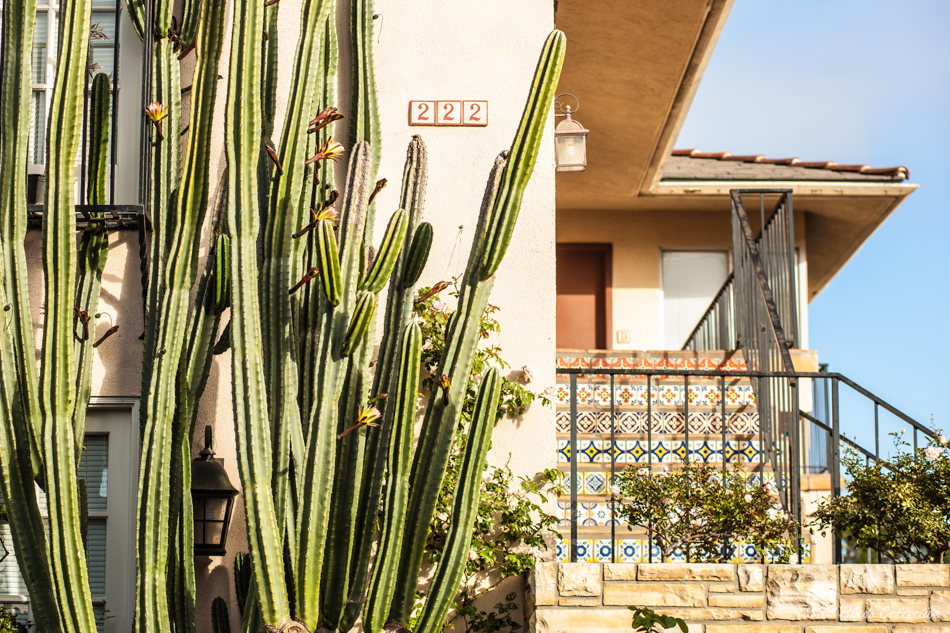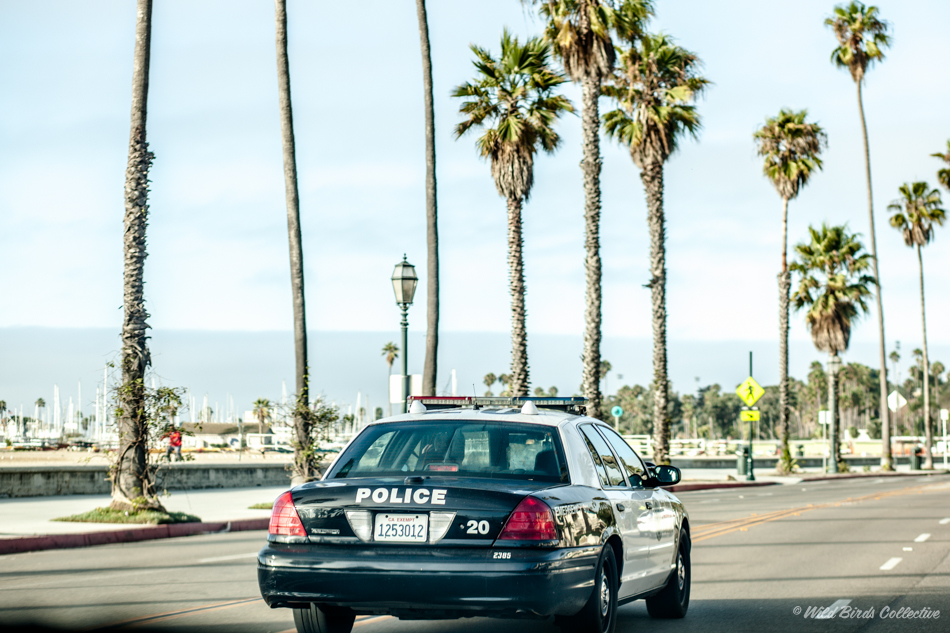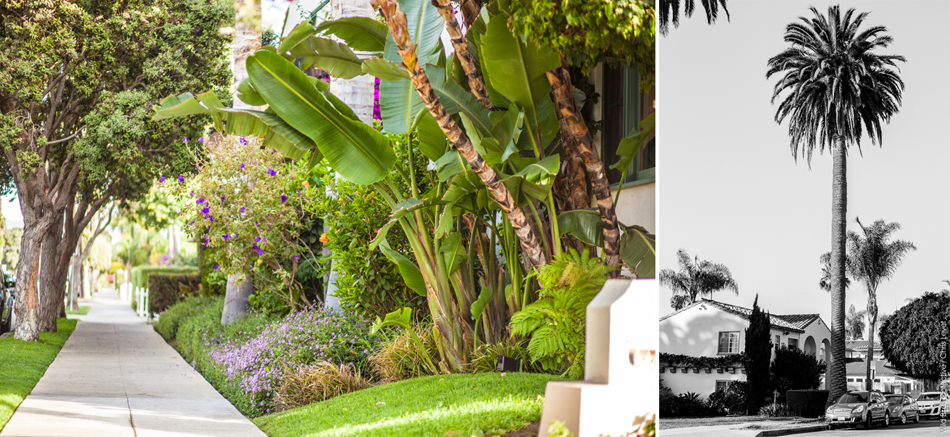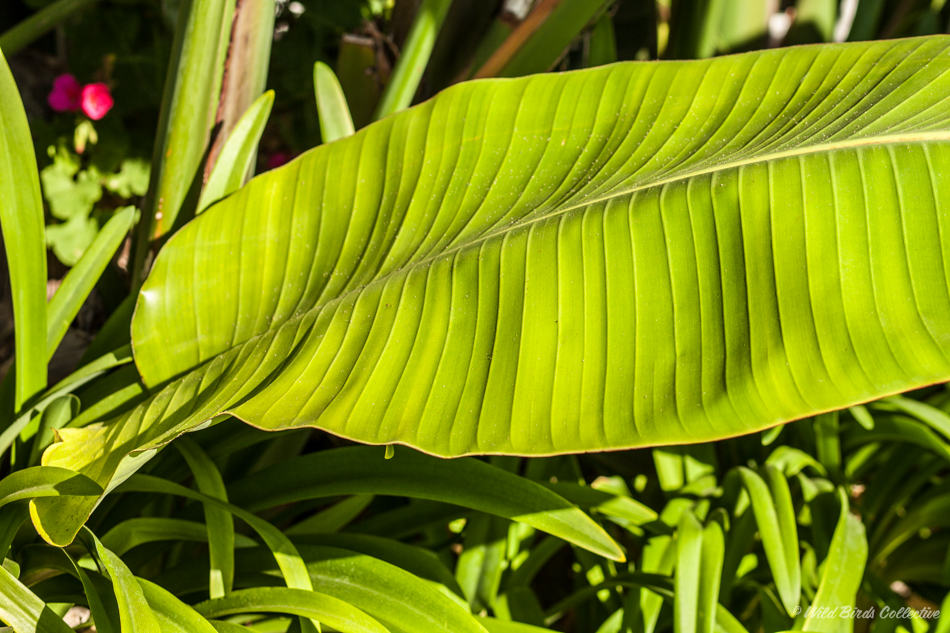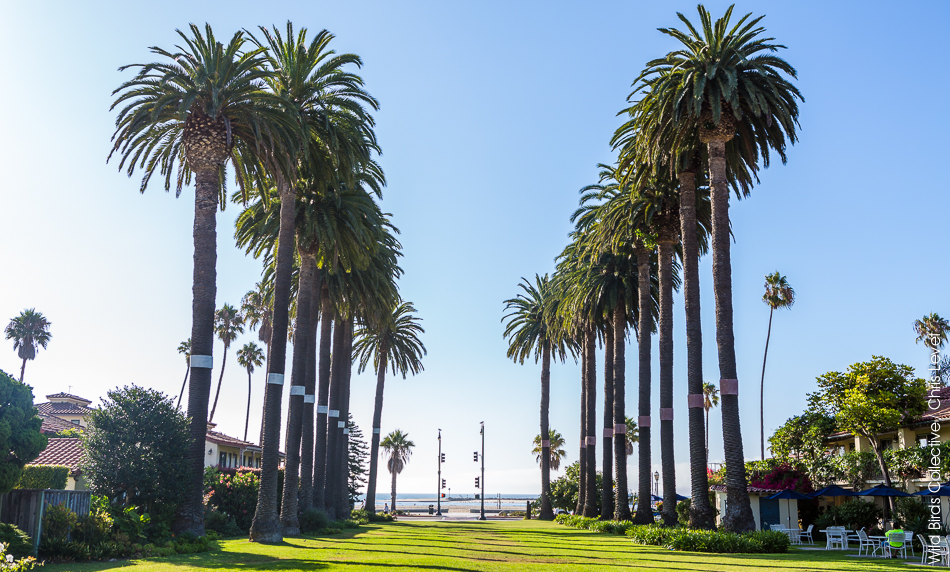 On quitte à regret ce petit coin de paradis! Sur la route qui nous mène à Williams nous passons aux abords de Los Angeles.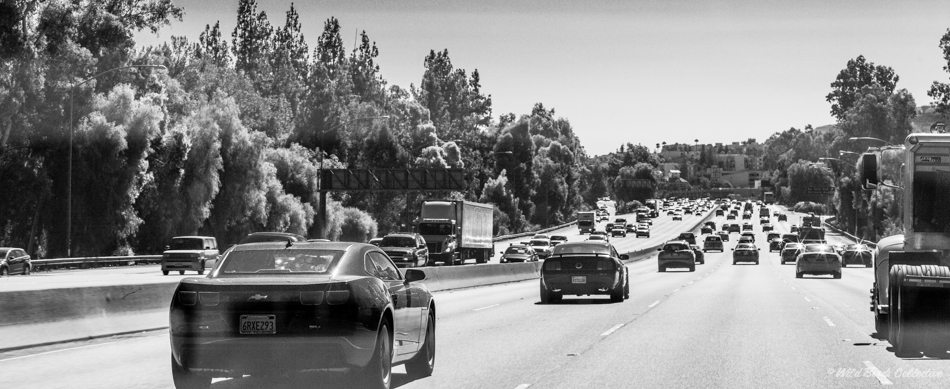 Sur l'autoroute à 5 voies (parfois 6) qui nous y emmène les sorties nous font de l'œil: Mulholland Drive, Hollywood Boulevard… On ferait bien un petit saut mais on avait choisi de ne pas faire d'étape à L.A faute de temps lors de ce road trip! Ce sera pour une prochaine fois!
Nous contournons Los Angeles sur de nombreux kilomètres. La circulation est dense et cela nous semble sans fin. On fini par sortir de cette ville immense (71 km de long) pour bifurquer en direction du Grand Canyon. Nous quittons la côte, l'ambiance change totalement et on se retrouve rapidement en pleine nature. Le paysage se fait plus désertique et il commence à faire très très chaud! On roule, on roule, on roule, jusqu'à Oro Grande où nous sortons de la highway pour emprunter, pour notre plus grand plaisir, la mythique route 66.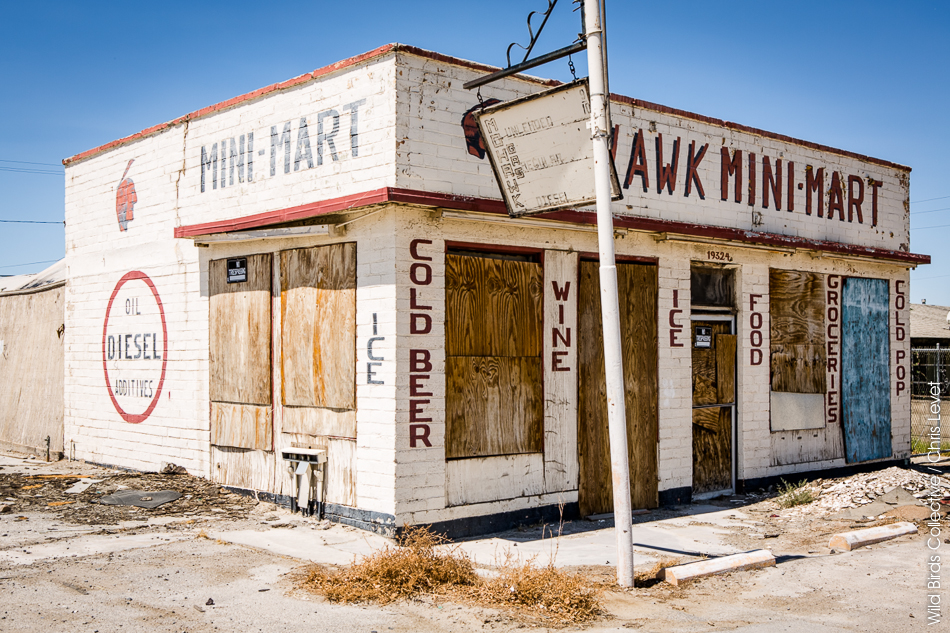 Dès les premiers miles le décor est planté. On tombe sur une jolie station service abandonnée comme beaucoup d'autres choses dans le coin d'ailleurs.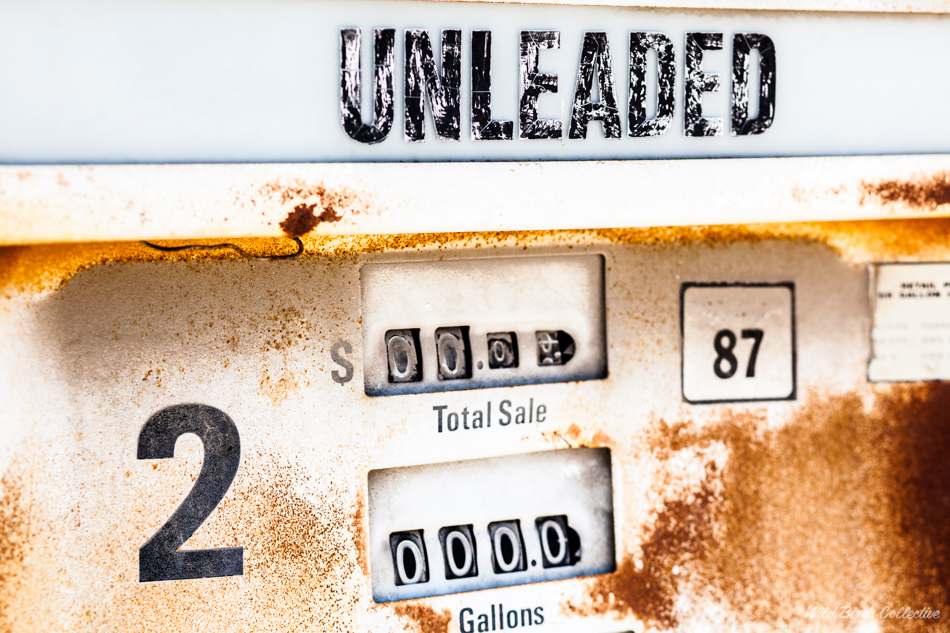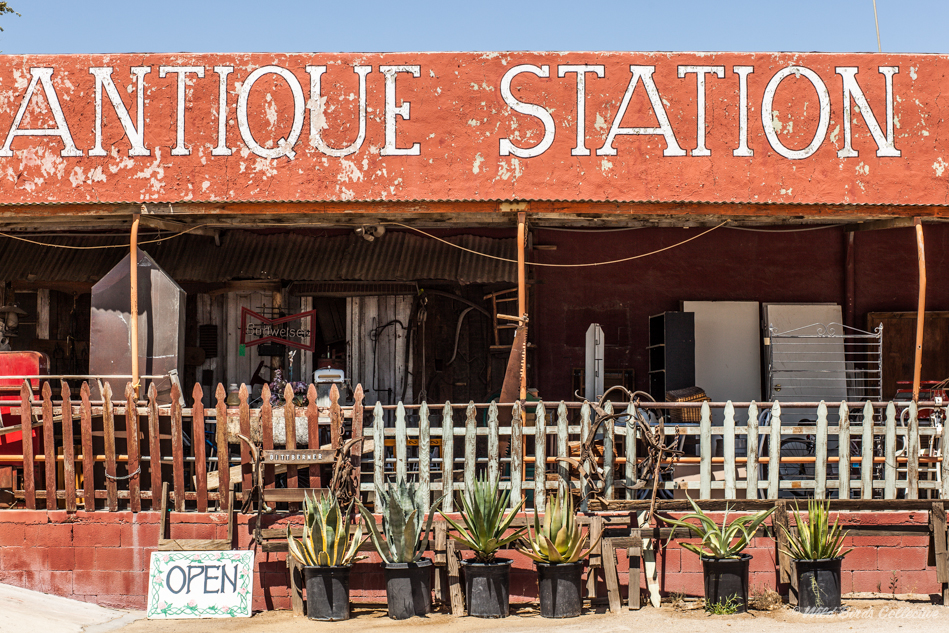 A l'exception de cette superbe boutique d'antiquités qui aura raison de nous mais ça on en reparlera très prochainement.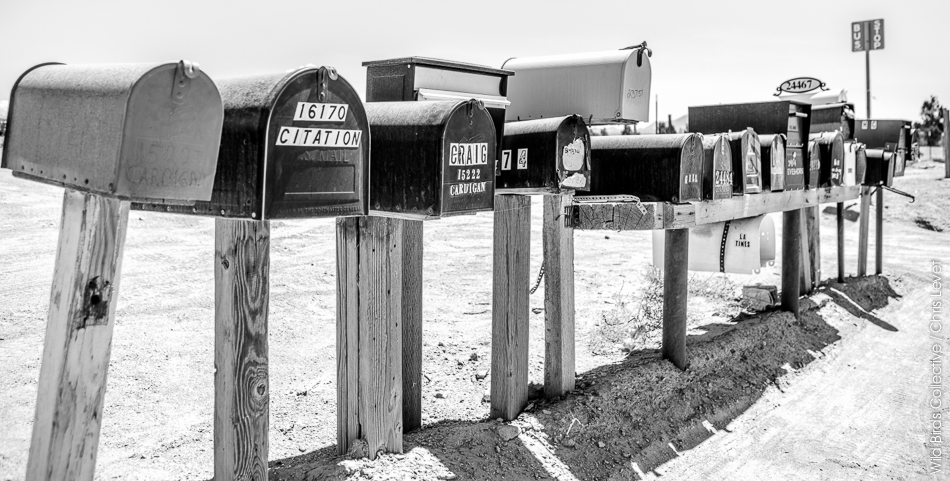 De belles boîtes aux lettres américaines bordent la route.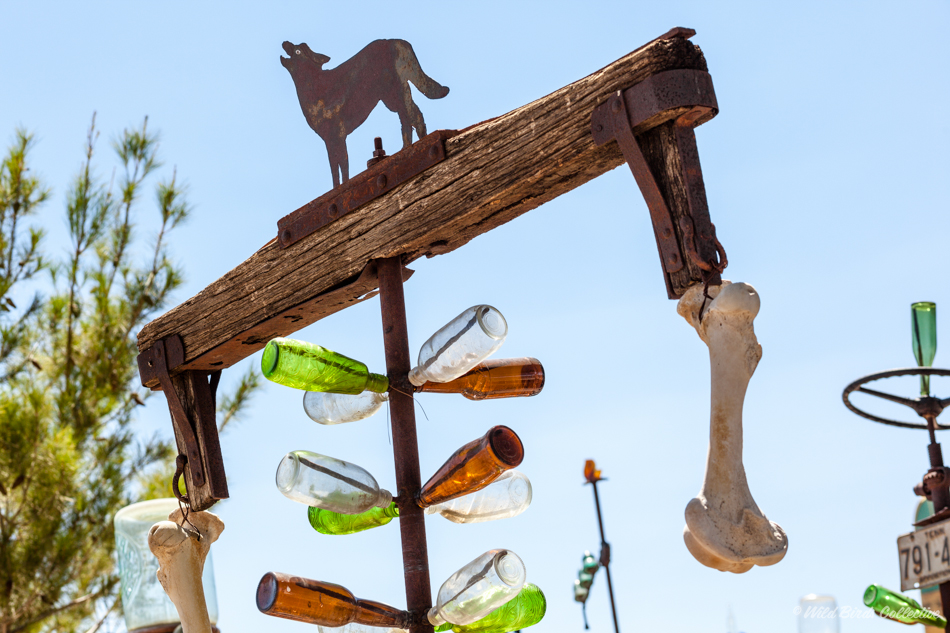 Notre vrai coup de cœur de cette partie du voyage : le Bottle Tree Ranch. Un pur moment de magie auquel on a décidé de consacrer un article à lui tout seul. A découvrir bientôt donc!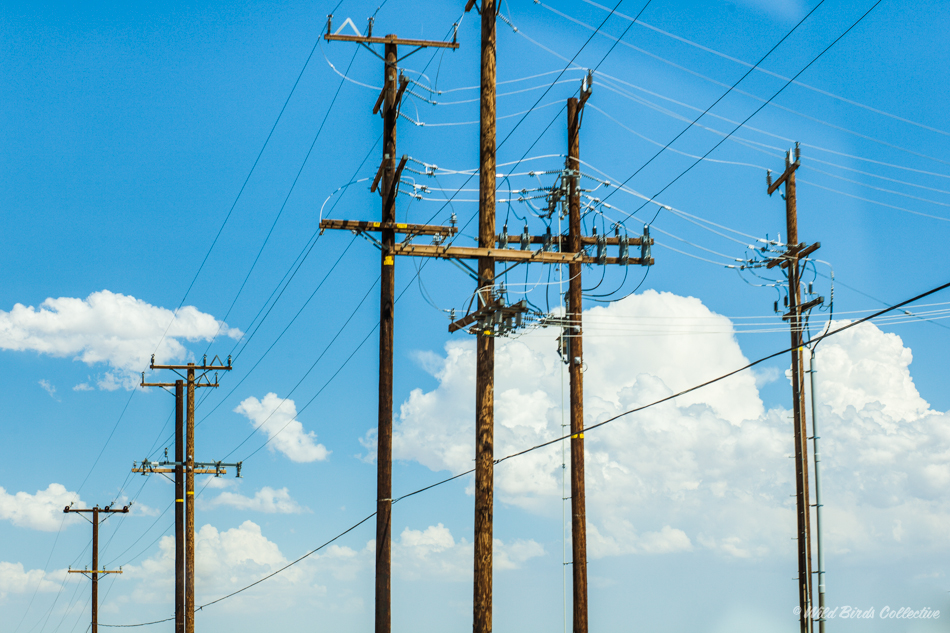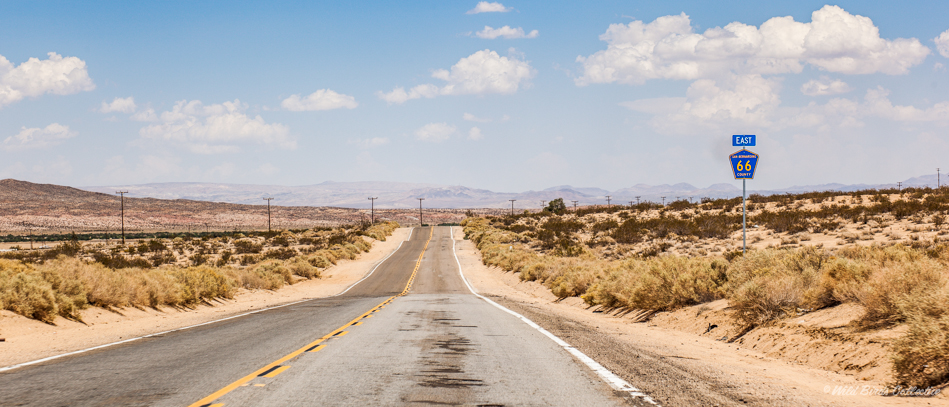 La route, le désert et ces deux fameux chiffres 66!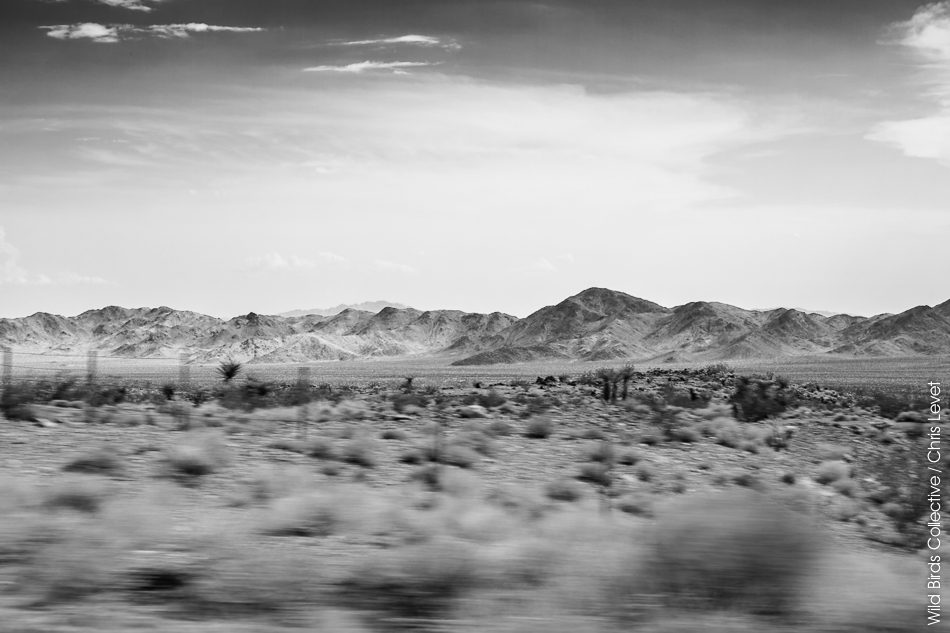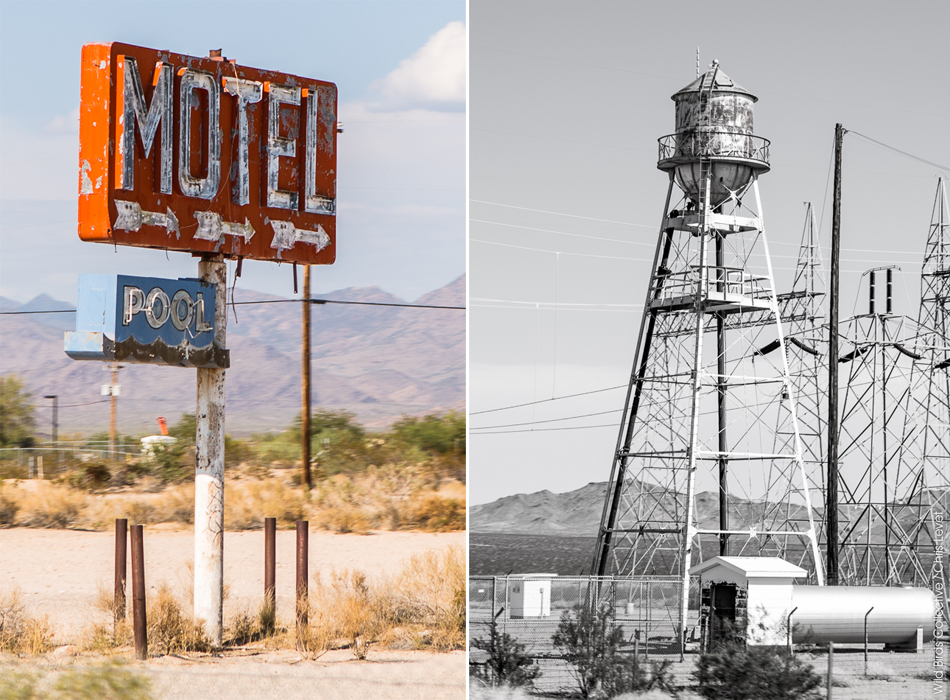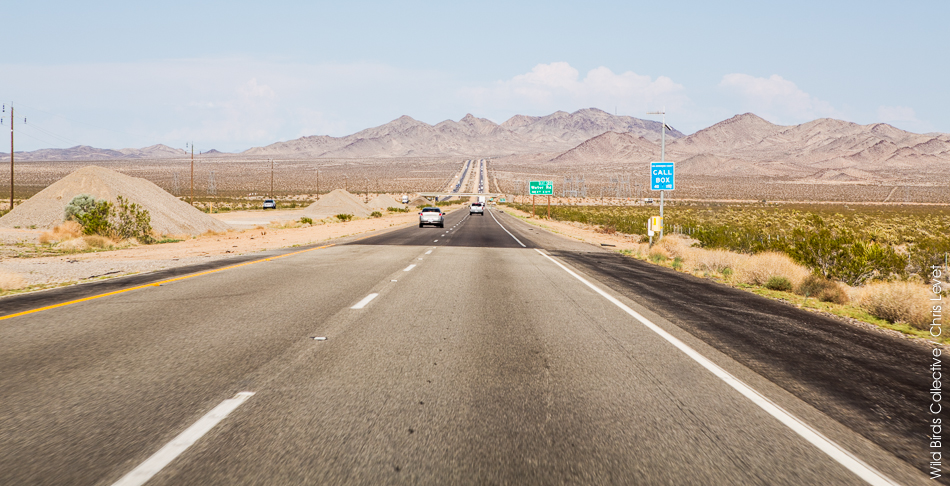 Alors que l'on a passé la majeure partie de cette journée en voiture, à parcourir de longues longues longues lignes droites sur des routes pas toujours en très bon état et parsemées de pneus de camion déchiquetés, impossible de se lasser de ces immenses et merveilleux paysages.
Les couleurs changent en permanence de subtiles nuances. La végétation, pourtant hyper désertique dans cette région, est elle aussi très différente par endroit. La terre se teinte de rouge, de pourpre, d'ocre et de vert… Le climat change lui aussi, on alternera soleil de plomb, mini tempête accompagnée de ses petites tornades et temps de montagne.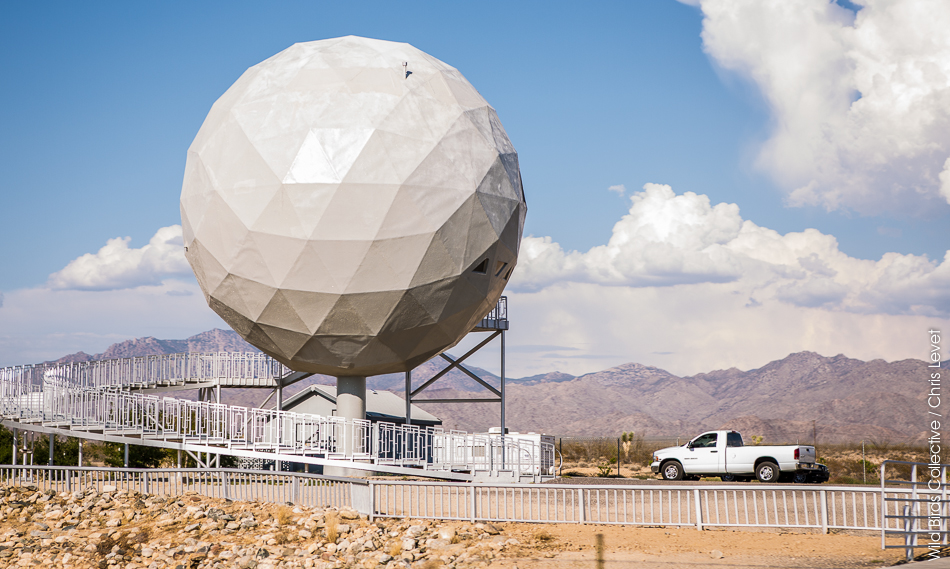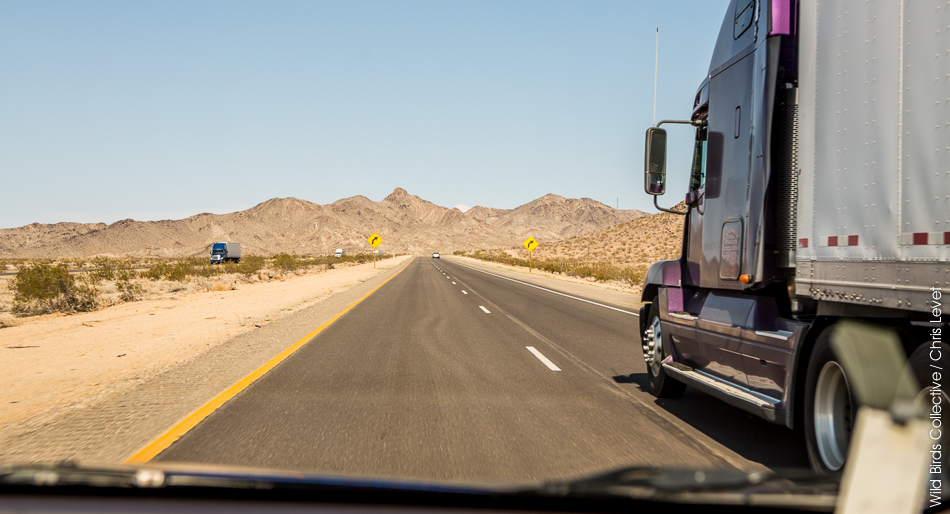 Chaque kilomètre parcouru nous surprend. Mais le plus incroyable reste l'immensité! Des paysages sans aucune habitation à perte de vue. Des étendues sauvages alternant plaines vallonnées et chaînes de montagne où seule la nature règne en maître.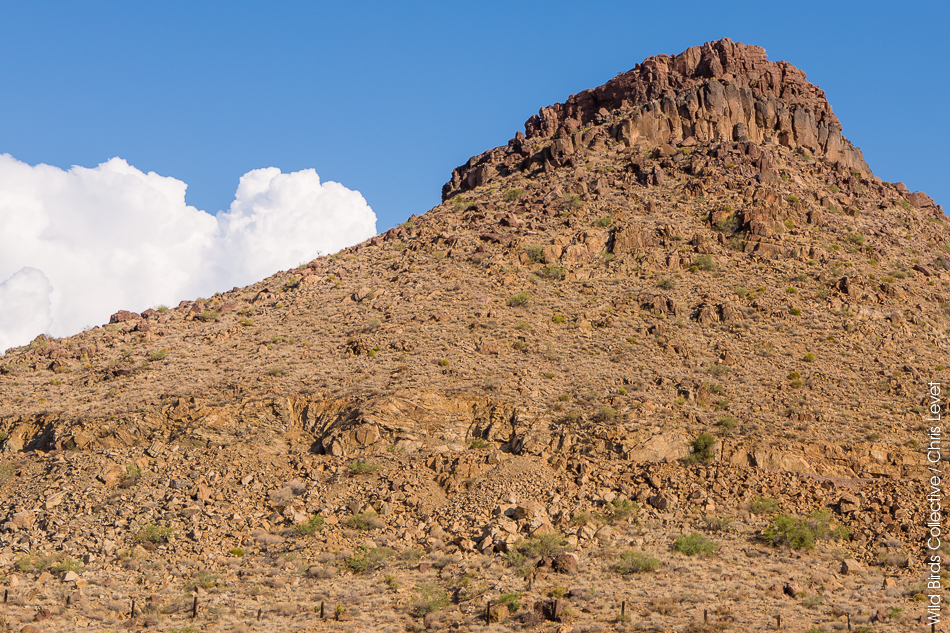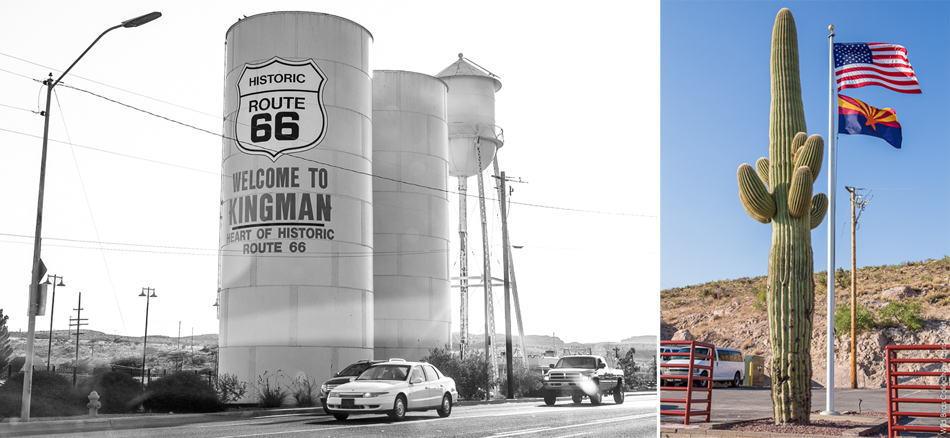 On fait un bref passage dans la ville de Kingman, sur la route 66, où trône un beau cactus symbole de l'Arizona.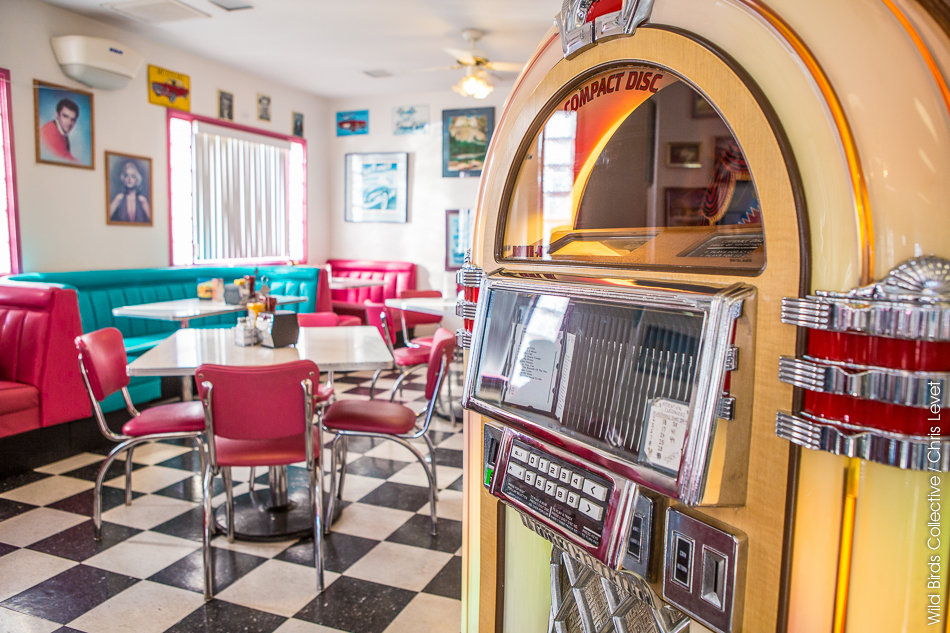 On en profite pour faire une petite pause chez Mr D's. Voiture vintage, carrelage en damier noir et blanc, jukebox, banquettes colorées, photos de stars et Coca Cola géant, tous les bons ingrédients d'un joli Diner.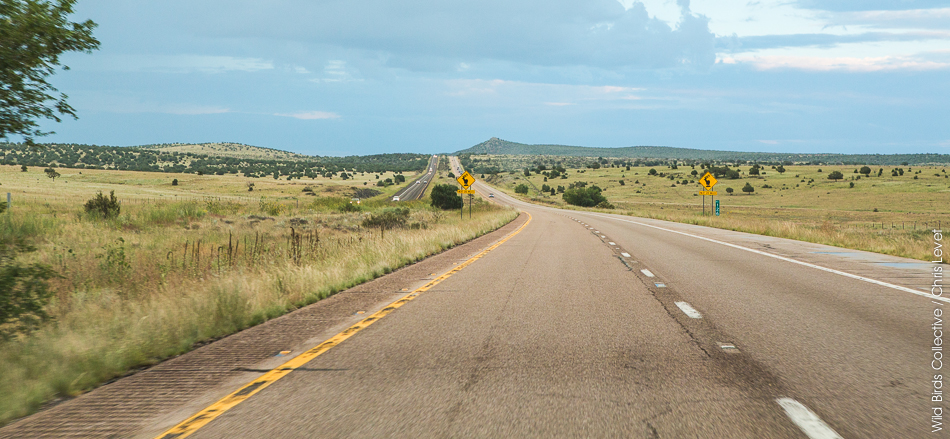 On reprend la route, nous ne sommes plus très loin. Les paysages verdissent, il fait beaucoup plus froid, la région est montagneuse.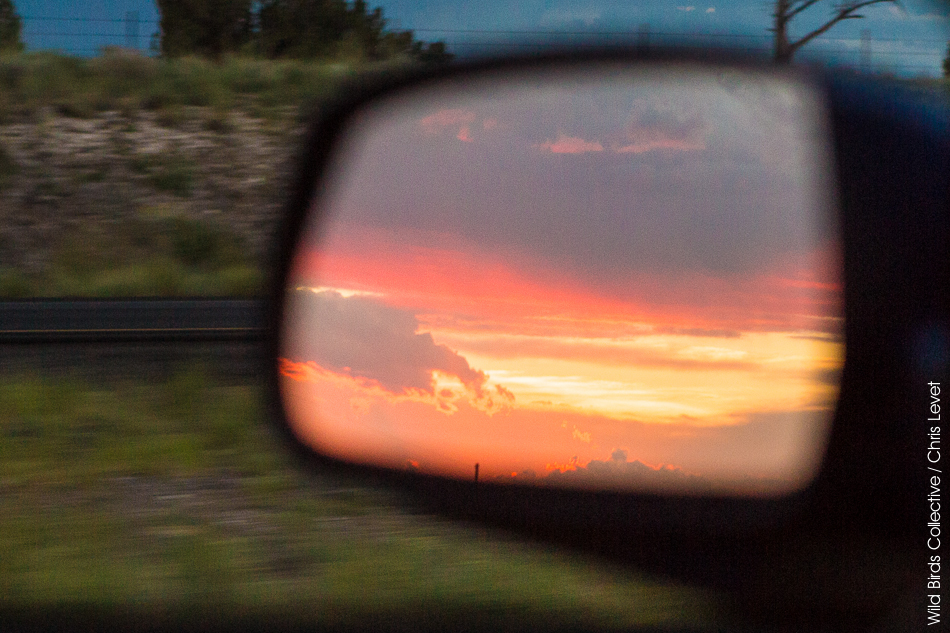 Derrière nous, un incroyable coucher de soleil s'offre en spectacle!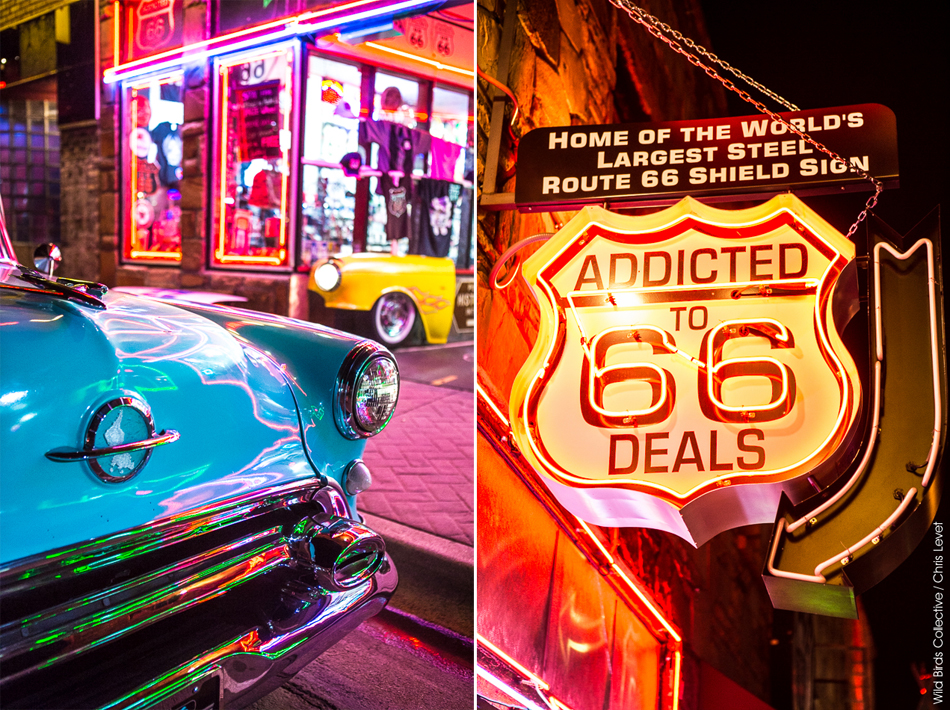 Nous arrivons à Williams, la ville des cowboys! Le coin est très touristique et comme pour Solvang tout ici est pensé en ce sens. Beaucoup de restaurants, des milliers d'enseignes lumineuses qui n'ont rien à envier à Time Square et de superbes boutiques de bijoux indiens. Des trains, aux belles locomotives anciennes partent pour le Grand Canyon qui est à un peu moins de 100 km. C'est très cliché mais le folklore opère!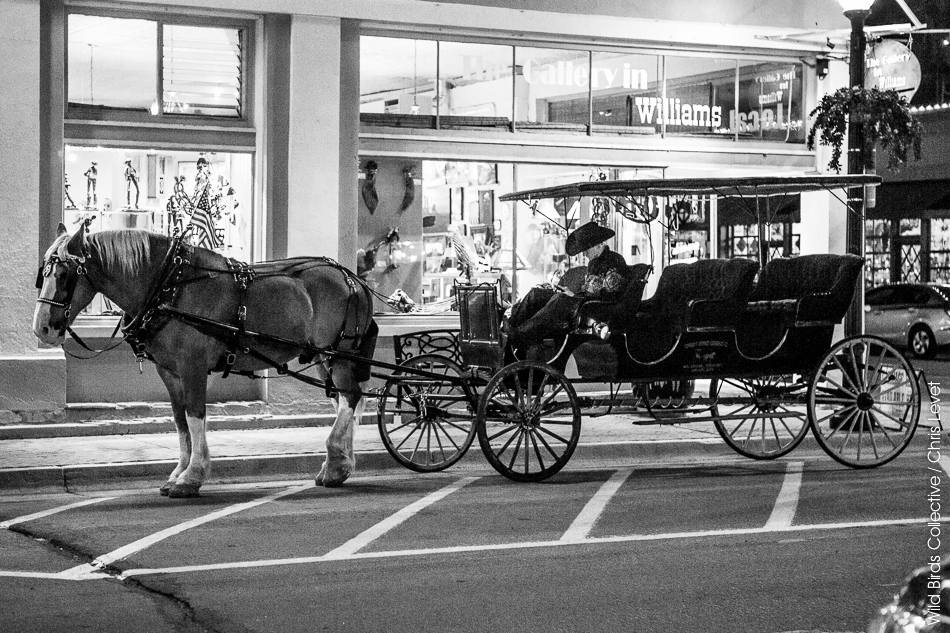 On se régale d'un bon repas végétarien au Red Raven.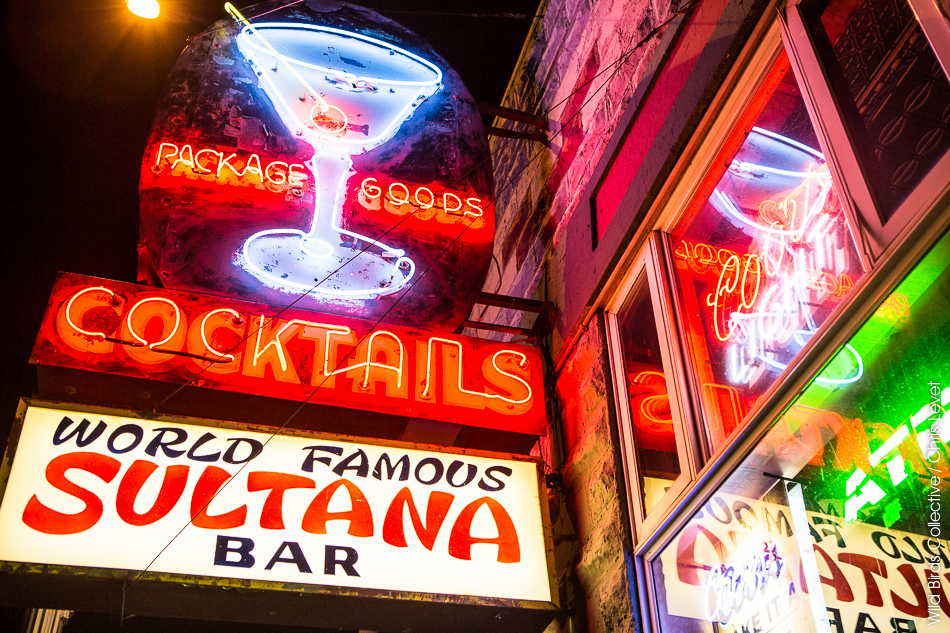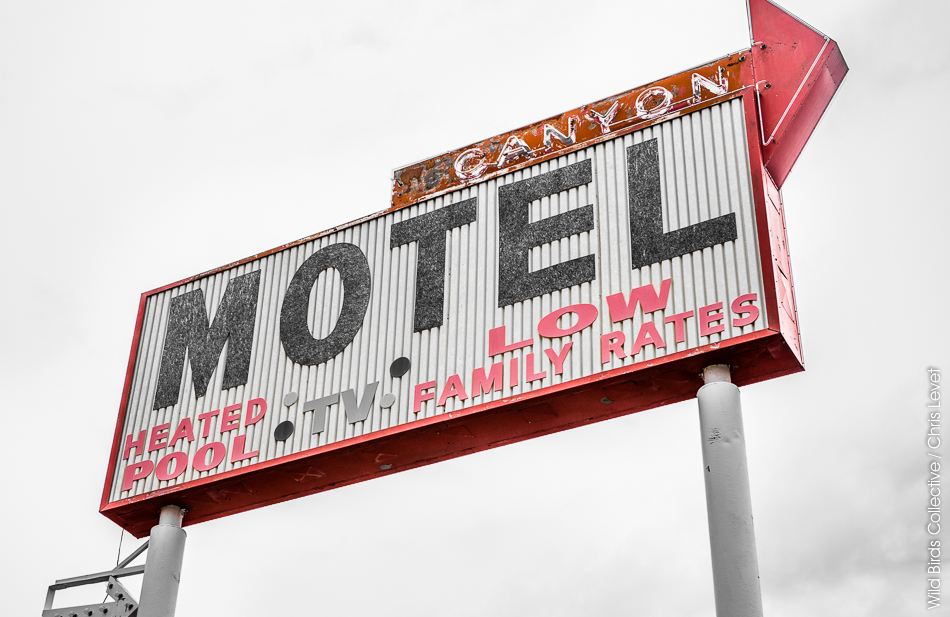 C'est l'heure d'aller dormir un peu dans un motel très original dont on vous parlera d'ici peu. Demain, visite du Grand Canyon, youhou!!!
Photos © Christophe Levet
---
English version: The first step of our road trip was Big Sur, for the second it was Santa Barbara. Today, after taking some pictures of our lovely Airstream caravan where we have slept yesternight (you can see the photographs here), let's go to Williams in Arizona. 700 kilometers of highway in a desert land waiting for us.
But before leaving Santa Barbara, some pictures of this beautiful city. We start with the beach! We watch the sun rise over the bay. Succulents, skatepark, joggers, giant palm trees and the ocean… Behind us, a beautiful lighthouse was transformed into restaurant. Almost all the houses are white, their paths are lined with tropical plants, cactus, palm trees and flowers. The city is nice, almost perfect!
We leave this paradise! On the road that leads to Williams we pass near Los Angeles. The highway had 5 ways (sometimes 6) and the exits are famous: Mulholland Drive, Hollywood Boulevard… They tempts us but we chose not to stop in L.A because we have no time! This will be for a next time!
We drive around Los Angeles for many kilometers. Traffic is heavy and the road seems endless. We finally get out of this huge city (71 km long) to go to the Grand Canyon. We leave the coast, the atmosphere changes and we are now in the wilderness. The landscape becomes more dry and it's very hot! We ride until Oro Grande where we leave the highway to take the legendary Road 66.
From the first miles, many memories of the past with this abandoned gas station like many other things in the area. Also, with the exception of a nice antique shop but we'll talk about it very soon. Beautiful American mailboxes border the road. Our favorite part of the trip for this third day was the Bottle Tree Ranch. A pure time of magic. We decided to devote an article to this place. We show you more pictures soon.
We spent most of the day by car to travel long long long straights. The roads are not always in very good condition. And there are many ripped tires of trucks. But it was impossible for us to be tired of these huge and wonderful landscapes.
The colors, the desert vegetation and the land change one kilometer after another. Landscapes stain in subtle shades. Red, purple, ochre and green color the places. Also, the climate is different too. We alternate between sun, little storm with its small tornadoes and mountain weather.
Each kilometer surprises us. But the most incredible is the immensity! As far as the eye can see, many crazy landscapes without any accommodation. Wilderness with hilly plains and mountains ranges where only nature reigns in master.
We made a stop in Kingman's city on the road 66, where we found some beautiful cactus, Arizona symbols. We took the opportunity to take a short break at Mr. D's. Vintage car, tiles in black and white checkerboard, jukebox, colorful seats, pictures of celebrities and giant Coke, all the good ingredients for a nice Diner.
We take back the road, we are not so far away. Now, the region is mountainous with green landscapes. it's colder! Behind us, an incredible sunset!
We come to Williams, the city of cowboys! The area is made for tourism and everything here is designed in this direction. Many restaurants, thousands of neon signs that have nothing to envy to Time Square and lovely Indian jewelry shops. Trains with beautiful old locomotives go to the Grand Canyon which is a little less than 100 km. It's very cliché but folklore works! We enjoy a good vegetarian meal at the Red Raven.
It's time to sleep in a very original motel which we will talk about soon. Tomorrow, we visit the Grand Canyon, youhou!
---
Pour découvrir nos articles sur la Californie – To discover our posts about California :
You might also like