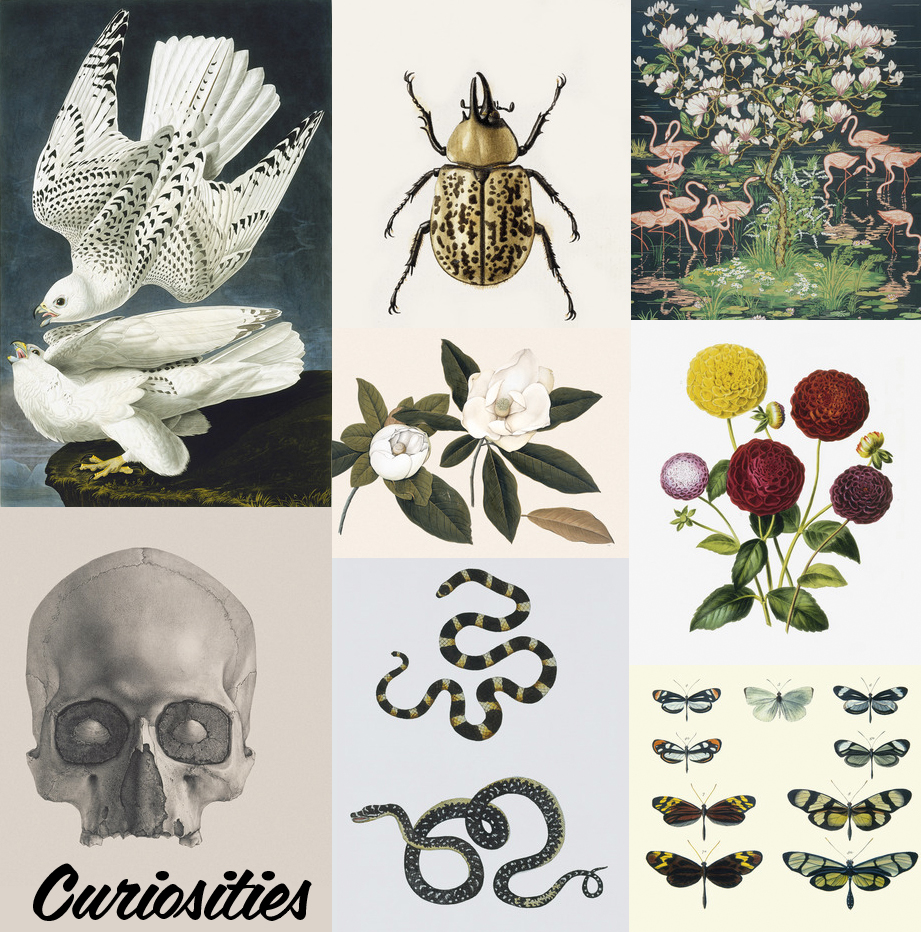 Chez Surface View, on collectionne les images, les gravures, les estampes, comme les timbres! D'ailleurs, c'est comme ça que tout à commencé pour le créateur Michael Ayerst, avec une collection de timbres. Chercher, dénicher, recueillir de superbes images pour en faire de très beaux revêtements d'intérieur. Incorporer à la décoration moderne, d'anciennes peintures pour les faire vivre encore un peu plus. Allier haute technologie et conservation d'un patrimoine précieux, en imprimant d'antiques illustrations sur les murs.
Chez Wild Birds Collective, on a eu un coup de cœur pour la collection du Museum d'Histoire Naturelle. Papillons, insectes, fleurs et plantes, serpents, crânes et autres curiosités viennent orner les murs de votre maison.
Des images qui peuvent recouvrir différentes surfaces et sont disponibles en plusieurs tailles et dans une multitudes de matières. Papier peint, stickers, céramique mais aussi sur toile comme un tableau, en poster, en photographie, en film pour décorer vos fenêtres, sur textile, en lampe ou encore sur du Formica®, bref tout est possible ! Cerise sur le gâteau, vous pouvez même faire imprimer votre propre photo.
On ne saurait que trop vous conseiller d'aller jeter un œil, voir les deux, à cette immense collection: surfaceview.co.uk
All rights reserved © surfaceview.co.uk
English version: Surface View collect pictures, engravings, prints, such as stamps! In fact, that's how it all began for the designer Michael Ayerst, with a stamp collection. Search, find, collect beautiful images to make a nice interior furnishings. Incorporate old paints in modern decor to make them live a little more. Combine high technology and conservation of a precious heritage by printing antique illustrations on the walls.
We fall in love with the collection of the Natural History Museum. Butterflies, insects, flowers and plants, snakes, skulls and other curiosities can adorn the walls of your home.
Images that can cover several areas and are available in different sizes and in a multitude of materials. Wallpaper, stickers, ceramic painting, but also as a table, poster, photograph, film to decorate your windows, textile, lamp or on Formica ®, everything is possible! Cherry on the cake, you can even print your own photo.
We advise you to go take a look and see this immense collection: surfaceview.co.uk
You might also like