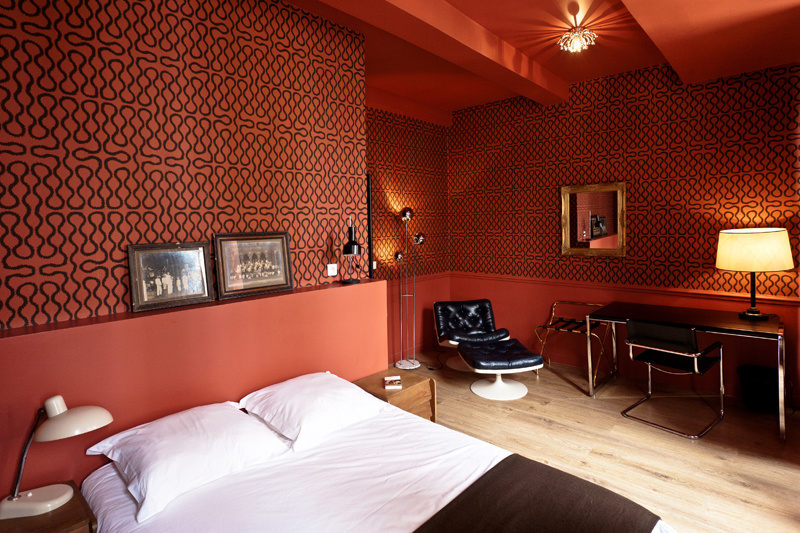 On vous avait déjà parlé de Marseille comme capitale européenne de la culture avec l'hôtel Mama Shelter. Toujours à la recherche d'un petit nid douillet pour vos escapades du week-end, Wild Birds Collective vous fait partager une autre jolie découverte marseillaise. Deux charmantes maisons d'hôtes vous attendent, dans le quartier de la Gare St Charles, à quelques minutes du vieux port où vous pourrez vous balader sous le soleil d'avril : bienvenue à la Casa Ortega et à la Pension Edelweiss.
Les propriétaires, David Karoubi pour la Casa Ortega et Bernadette Rochat pour la Pension Edelweiss, vous accueillent dans une ambiance rétro, décorée de meubles et d'objets datant des années 30 aux années 70, dénichés par ces passionnés de brocante et de design.
La Pension Edelweiss, très grand duplex et La Casa Ortega qui se trouve dans un petit immeuble typiquement marseillais, sont situés à 10 minutes l'un de l'autre. Ils disposent chacun de 5 chambres, toutes différentes, pour des tarifs allant de 77 à 100 euros pour deux, petit-déjeuner inclus.
Toutes les infos: pension-edelweiss.fr / casa-ortega.fr
Photos © Casa Ortega – Pension Edelweiss
La Pension Edelweiss :
La Casa Ortega :
English version: We have already spoken of Marseille with the hotel Mama Shelter. Always looking for a cozy place for your weekend getaways, we want to share with you two others nice discoveries in this city. Two charming guest houses in the neighborhood of the Gare St Charles, near the old port : the Casa Ortega and the Pension Edelweiss. 
The owners, David Karoubi for the Casa Ortega and Bernadette Rochat for the Pension Edelweiss are passionated about antiques and design. They welcome you in a retro atmosphere, decorated with furniture and objects dating from the 30's to 70's.
Pension Edelweiss is a very large duplex and Casa Ortega is in a typical building of Marseille, both are located at ten minutes from each other. They have five rooms, all differents, with prices ranging from 77 to 100 euros for two, breakfast included.
All information: pension-edelweiss.fr / casa-ortega.fr
Photos © Casa Ortega – Pension Edelweiss
You might also like