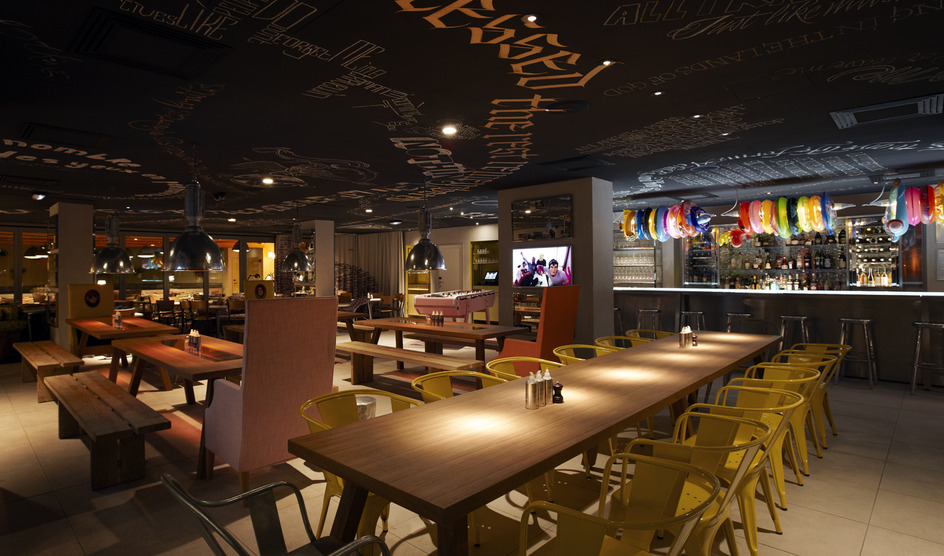 Cette année Marseille est la capitale européenne de la culture. Ce qui présuppose une déferlante d'éventements culturels. L'architecture y tiendra une place de choix avec 8 nouveaux bâtiments hors normes dont nous aurons le plaisir de vous parler prochainement.
Alors à cette occasion, peut être aurez vous envie de venir passer quelques jours dans la cité phocéenne. Si tel est le cas et que personne ne peux vous héberger dans une maison avec vue sur la mer, laissez-vous tenter par l'hôtel Mama Shelter!
Un décor contemporain bien maitrisé qui donne au lieu une ambiance accueillante et détendue. Simple mais efficace!
Les 127 chambres et suites de l'hôtel sont signées Philippe Starck et sont équipées d'une connexion Wi-Fi gratuite et d'un IMac de 69 cm.
Ambiance relax au bar avec au programme des parties de baby foot. Demandez au concierge de vous indiquer le chemin du Skate Park Borély et de la Mama Beach où des transats vous attendent.
Des tarifs raisonnables avec des chambres doubles à partir de 79 euros. Et en ce moment, dans le cadre de Marseille Provence 2013, il est même possible d'avoir des chambres à 49 euros! Attention l'offre est limitée dans le temps! Voir conditions sur mamashelter.com
Mama Shelter Marseille, 64, rue de la Loubière, 13006 Marseille. Pour découvrir les autres hôtels Mama Shelter, à Lyon, Paris et Istanbul et pour avoir toutes les infos sur cet établissement: mamashelter.com
Pour finir de vous convaincre: une petite visite en image s'impose!
Photos © mamashelter.com – starck.com
English version: This year, Marseille is the European capital of culture. There is lot of cultural events in the city. For exemple, the architecture has a special place with 8 new original buildings.
So maybe you'll want to spend a few days in Marseille on this occasion! So, book a room at the Mama Shelter hotel!
The style of this establishment is contemporary with a cosy atmosphere. The 127 rooms and suites are designed by Philippe Starck. There is a relaxed in the bar with parts of football tables.
Ask the concierge to show you the way to the Borély Skate Park and the Beach Mama where chairs await you.
Reasonable rates with double rooms from 79 euros. And currently, as part of Marseille Provence 2013, it is even possible to have rooms at 49 euros! Caution, this offer is limited time! See conditions on mamashelter.com
Mama Shelter Marseille, 64 rue de la Loubière, 13006 Marseille. To discover the others hotels Mama Shelter, in Lyon, Paris and Istanbul and for all information about this hotel: mamashelter.com
You might also like