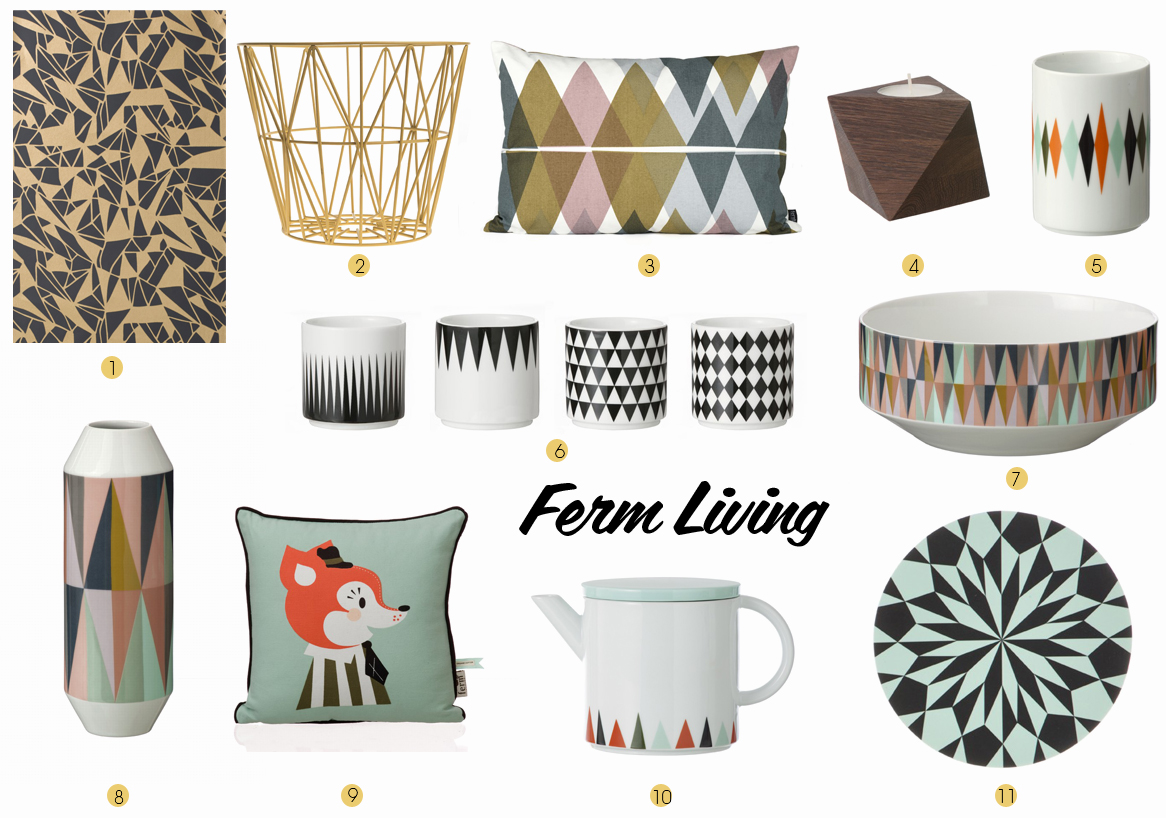 Aujourd'hui, Wild Birds Collective vous propose de découvrir, pour ceux qui ne la connaisse pas encore, la marque danoise Ferm Living créée par Trine Andersen il y a maintenant 7 ans. D'ailleurs, on en avait déjà un peu parlé dans notre article sur le Tea Time Shop.
Forcément, on adore la géométrie des motifs et l'esprit un brin vintage qui se dégage des collections de la marque.
Objets de décoration et vaisselle en céramique, coussins, doudous pour les petits, papiers peints…une multitude de jolies trouvailles pour apporter une touche de design scandinave à votre intérieur.
Voici une petite sélection de nos envies! Pour en voir plus: ferm-living.com
1– Le papier peint Monroe – 81 € le rouleau / 2– Une jolie panière pour ranger de jolies choses – Wire Basket Yellow – de 58 à 82 € selon la taille / 3– Le coussin Mountain Lake – 54 € / 4– Un bougoir – Cube smoked Oak – 30 € / 5– Une tasse – Cupe Large – 16 € / 6– Le lot de 4 tasses à expresso – Espresso Cups Geometry – 35 € / 7– Un pot en porcelaine – Spear Bowl – 55 € / 8– Un vase en porcelaine – Spear Vase – 42 € / 9– Des coussins – Mr Frank Fox et Aristo Katt – 30 € / 10– Une théière – Tea Pot – 70 € / 11– Un dessous de plat déco – Cutting Board Stars Mint – 27 €
Bon plan: certains articles sont désormais disponible chez minimal.fr
Quelques photos d'ambiance © Ferm Living
English version: Ferm Living is a danish brand created by Tina Anderson seven years ago. We already talk about Ferm Living in our post about the Tea Time Shop.
We love the geometry, the patterns and the vintage spirit that emerges of the collections. Decorative objects and ceramic tableware, cushions, decoration for kids, wallpapers…there is a multitude of beautiful things to bring a touch of Scandinavian design in your home.
Here it's a small selection of products, to see more: ferm-living.com
Click on the bold words to access to the products.
You might also like