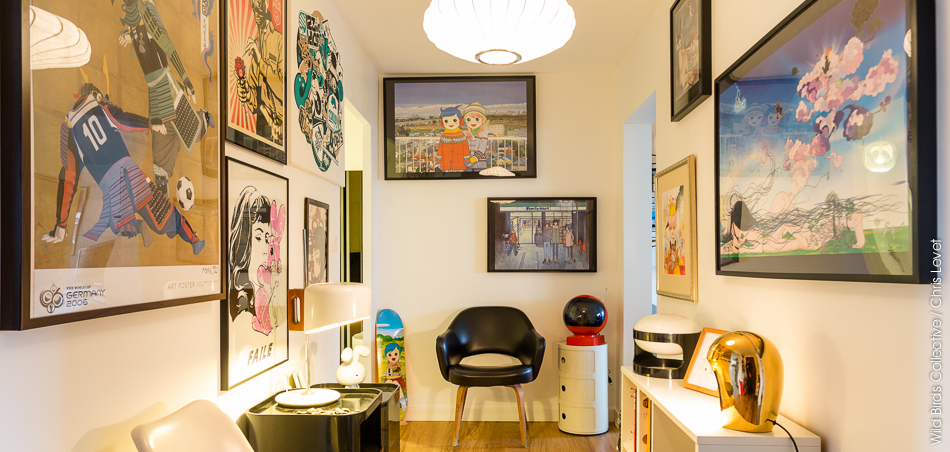 Il y a quelques temps, nous vous avions fait découvrir le très bel appartement de deux passionnés de design. Au travers de l'interview que nous leur avions consacré, nous avions découvert leur amour pour l'art asiatique contemporain. De merveilleuses illustrations et de beaux tableaux d'artistes jonchant les murs de leur home sweet home, c'est très naturellement qu'on leur a proposé de nous faire partager leurs découvertes. L'occasion pour nous de rêver un peu aux belles créations qui pourraient décorer notre maisonnée et d'en apprendre un peu plus sur ces différents artistes et sur leurs œuvres.
Au travers de trois articles, nous partirons donc à la rencontre d'Ikumi Nakada et Hikari Shimoda, deux artistes représentants à leur manière la nouvelle vague de la peinture contemporaine japonaise. Puis, nous en profiterons pour vous faire découvrir des œuvres d'artistes reconnus et d'autres en devenir dans un troisième volet!!! Let's go to Japan!!
On commence donc aujourd'hui par une interview de Ikumi Nakada: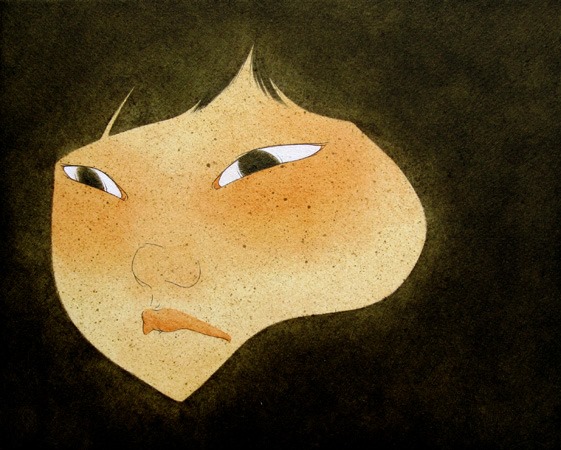 WBC : Peux-tu te présenter en quelques mots? Can you introduce yourself with some words ? 
IK : Je suis né à Saitama, au Japon, le 2 Novembre 1982. Je m'intéresse au passage à l'adolescence. C'est une période critique où l'on peut ressentir diverses émotions comme un sentiment d'aliénation, d'infériorité, d'insécurité. Je veux décrire ces sentiments de façon simple sans effusion. Par ce travail, j'étudie les liens de ces enfants avec les autres ou la société.
I was born in Saitama, Japan on November 2, 1982. I'm curious about boys or girls at the onset of puberty. They (maybe included myself in those days) have a sense of alienation, inferiority, insecurity. I want to depict these feelings simpler, not effusively. In doing so, I think about their connections with others or community.
WBC : Est-ce que ton travail fait parti d'un mouvement ou d'un type de peinture? Does your work belong to a movement or a kind of painting ? Is it a classic way of the japanese contemporary art or something for a target public ? 
IK : La plupart de mes œuvres sont réalisées à l'huile et au crayon sur papier et parfois à l'acrylique. C'est avant tout de la peinture. Je ne pense pas que cela s'apparente à de la peinture classique mais je ne suis pas non plus toute seule à travailler dans ce sens là.
Most of my works are of oil and pencil on paper, occasionally of acrylic and definitely classified as a painting. I don't think it's a classic way, but not so rare.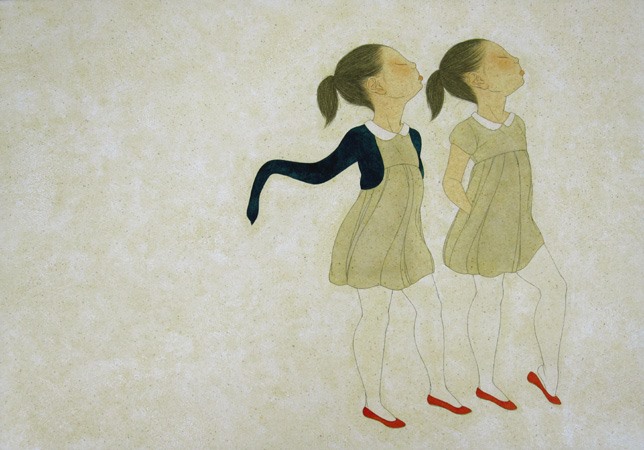 WBC : Quelles sont tes principales influences ? What were your principal influences ?
IK : Je pense que ce sont les événements de quotidien, ce que je vis tous les jours qui influencent mes oeuvres. J'aime les choses familières de la vie quotidienne. Comme par exemple, partir en voyage, regarder la télévision, communiquer avec les autres, faire du shopping, la cuisine, la lecture de romans, aller au cinéma, faire de la poterie… Cela m'inspire pour mes créations. À propos de la technique de mes oeuvres, j'aime les dessins au trait. Je suis influencée par les peintures de style japonais, la gravure sur bois « Ukiyoe » et les mangas.
I think daily occurrences around me influence my works. I like things familiar to daily living. Such as going on a trip, watching TV, communicating with others, shopping, cooking, reading novels, going movies, pottery and all. They give me a lot of hints for creations. About the technique of my works, I like line drawings. I am influenced by the Japanese-style paintings, woodblock prints « UKIYOE » and MANGA.
WBC : Beaucoup d'artistes peintres Japonais mélangent la culture ancienne et moderne japonaise. Est-ce important pour toi et est-ce ta façon de travailler ? Lot of Japanese contemporary painters mix old and new japanese culture. Is it important for you and are you in this way of working ? 
IK : C'est naturel et c'est important pour moi de mélanger anciennes et nouvelles cultures. Par exemple, récemment, je me suis beaucoup intéressé à l'art populaire traditionnel japonais comme le « Hariko » (papier mâché). Il y a eu beaucoup d'essais et d'erreurs avant d'arriver à ce résultat. Je pense qu'ils ne sont pas seulement anciens mais qu'ils contiennent aussi beaucoup de nouvelles idées. Je ne retiens que ce qui est bien sans faire de distinction entre ancien et nouveau style.
It's natural for me to mix old and new our cultures. Indeed it's important for me. For example, I'm very curious about the Japanese traditional folk crafts such as « HARIKO »(papier-mache) recently. They have been made with much trials and error. I think they are not just old, but have a lot of fresh ideas. I like to feel « good is good » without distinguishing between old and new style.

WBC : Les enfants font souvent l'objet de tes peintures et ils sont souvent représentés comme des fantômes errants ou ont des attitudes étranges. Peux-tu nous parler un peu d'eux? Children are often subject of painting, they often seem to be like « lost ghost » or have a strange attitude… Can you speak about your children in your painting ? 
IK : Dans mes peintures, les enfants sont bouleversés par leurs changements corporels et leur transition vers l'âge adulte. Aussi, ils recherchent des moyens de s'entendent avec les autres. C'est pour cela qu'ils agissent souvent anormalement, ont l'air malheureux, excentriques, ou inquiets.
Children on my paintings are upset about the bodily changes and transition to adulthood. Also they are looking for ways to get along with others. As a result, they often act abnormally with unhappy, cranky, or worried looks.
WBC : En France, beaucoup de gens aiment les mangas, as-tu grandi avec, est-ce que cela a influencé ton travail et si oui de quelle façon ? Here in France, many people enjoy manga, did you grew up with it and does it influence your work and in which way ? 
IK : Oui, j'ai grandi avec les mangas et j'aime toujours en lire. Ils sont réalisés de façon simple à la plume et à l'encre. Mais leurs lignes semblent vivantes. C'est incroyable. J'aime surtout le travail de Oji Suzuki. Son œuvre est superbe. J'essaie parfois de dessiner des mangas au lieu de les lire. C'est un peu difficile pour moi mais c'est un vrai défi. Je pense que les mangas sont parfaits lorsqu'ils sont créés comme des films et des pièces de théâtre.
Yes, I grew up with MANGA, and I still like to read it. MANGA is created by simple tools like a pen and ink. But the lines of it is animated vividly. It's amazing. Especially I like Oji SUZUKI's works. His works is great. Sometimes I try drawing MANGA instead of reading. It's a little bit hard for me, but worth to challenge. I think MANGA is perfected when it is created as movies and dramas.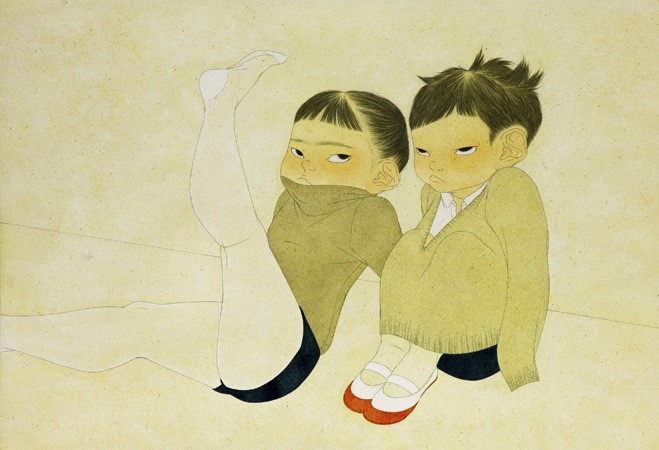 WBC : Appartiens-tu à un réseau où les artistes se côtoient ? Est-il facile de contacter les galeries d'art pour exposer ? Do you belong to a network where artists know them ? And is it easy to have contact with gallery for show ? 
IK : Pas pour le moment. Mais moi-même et la galerie à laquelle j'appartiens avons un site web où les gens peuvent voir mes œuvres.
Not at this moment. But both I and the gallery I belong, unseal contemporary, have a website through which people can look up my works. My website – Gallery website 
WBC : Est ce que l'Europe et les USA t'inspirent ? Europe and USA : Do they inspire you ?
IK : Je pense que oui. Par exemple, je m'intéresse aux dessins animés, aux animations, surtout le stop motion et aux spectacles de marionnettes produits en Europe et aux États-Unis. Ils sont si mignons et uniques.
I think so. For example, I am interested in cartoons, animations(especially stop motion animations) , and puppet plays produced in Europe and the United States. They are so cute and unique.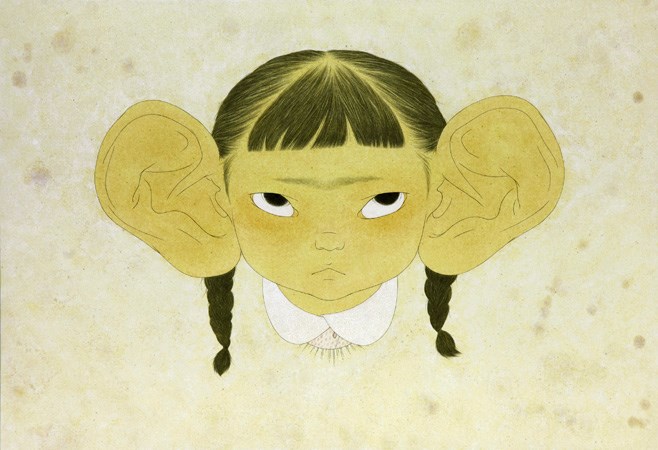 WBC : Le language est souvent un frein à la communication… Est-ce difficile de montrer ton travail au reste du monde ? The language is often a stop for the communicating… Is it difficult to show your work oversea ? 
IK : Je ne suis pas très à l'aise lorsqu'il faut traduire en anglais l'un des titres de mes œuvres qui est un jeu de mot en japonais. Mais cela n'a pas de conséquences sur mon travail. Je souhaite pouvoir exposer à l'étranger ainsi qu'au Japon.
feel difficulty in translation when I make a play on words in Japanese as a title of my works. But it has not importance on my works. I want to hold my shows abroad as well as my homeland.
WBC : Et pour finir, je te remercie d'avoir accepté notre invitation! Quels sont tes rêves pour le futur? En espérant que cela se réalise!  And for close, thank you very much to have accepted our invitation! And which are your dreams for the near and far future ? By hoping that it comes true. 
IK : J'espère publier mes livres d'art. Et aussi avoir la chance d'exposer à divers endroits à travers le monde. Merci à vous!
I hope to publish my art books. Also have chances to hold more shows at various places around the world. Thank you!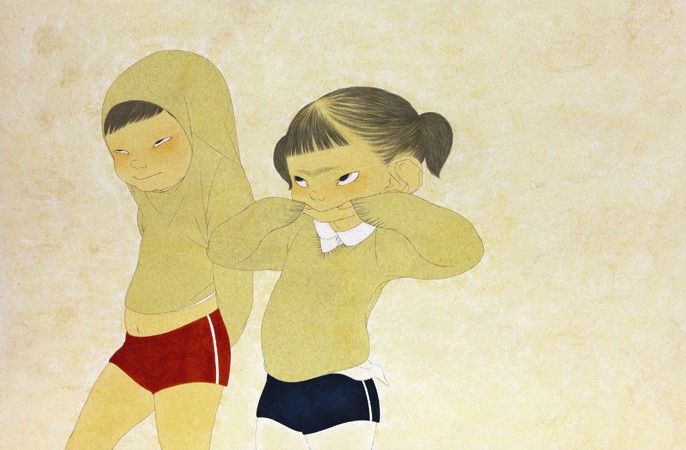 Retrouvez toutes les œuvres d'Ikumi Nakada sur son site internet et sa galerie. 
Un immense MERCI à Julien et Coralie! Leurs recherches nous ont permis de découvrir le travail de cette artiste. Et merci à Ikumi Nakada d'avoir accepté de répondre à leurs questions!
On retourne bientôt au Japon sur Wild Birds Collective, avec un deuxième volet. On découvrira cette fois-ci l'œuvre de Hikari Shimoda.
Photo 1 © Christophe Levet – Autres photos © Ikumi Nakada
English version: Few time ago, we show you the beautiful « home sweet home » of two design enthusiasts. Through their interview, we discovered their love for contemporary Asian art. They have many beautiful paintings and illustrations of artists, so we asked to them to share their discoveries with us. 
Through two interviews, we'll go to the meeting Ikumi Nakada and Hikari Shimoda, two artists representatives, in their own way, of the new wave of contemporary Japanese painting. Then, we take the opportunity to introduce you to the works of others artists in a third post! Let's go to Japan !
So today we start with an interview of Ikumi Nakada. Find all the works on her website and her gallery.
A great THANK YOU to Julien and Coralie! Their researchs has led us to discover the works of this artist. And thank you to Ikumi Nakada for agreeing to answer questions!
We go back to Japan soon in a upcoming post on Wild Birds Collective's blog. This time we discover the work of Hikari Shimoda.
Photo 1 © Christophe Levet – Others Pictures © Ikumi Nakada
You might also like