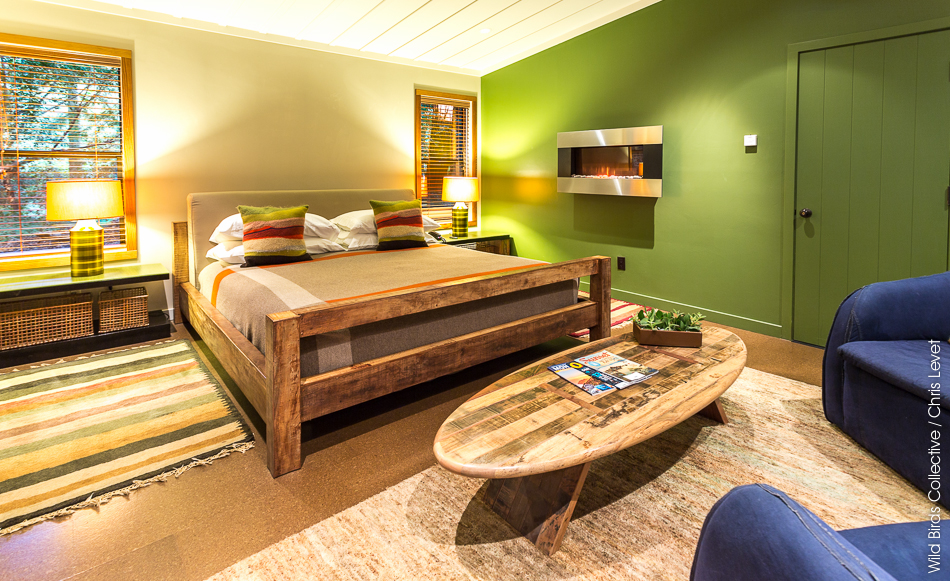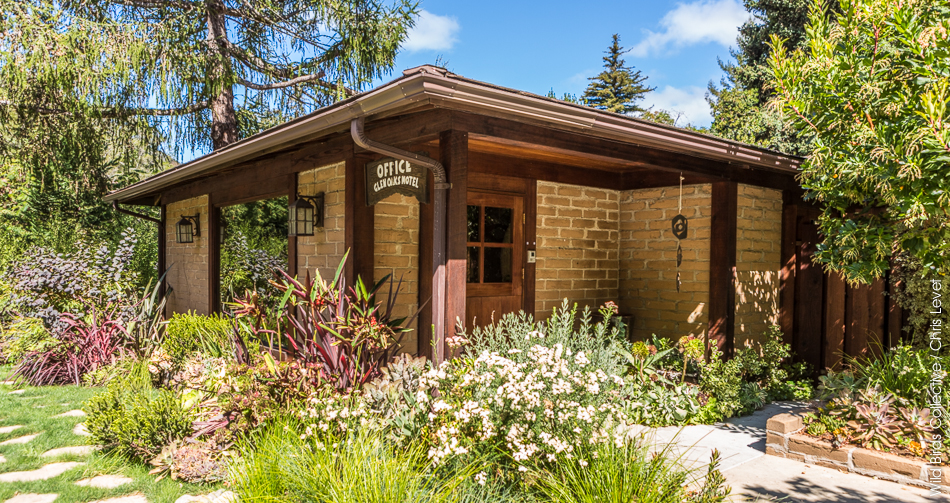 On vous en avait déjà parlé il y a quelques temps ici en gardant un peu de mystère! Aujourd'hui, on vous dévoile les photos de ce merveilleux motel californien dans lequel nous avons eu la chance de passer une nuit lors de notre road trip aux États-Unis.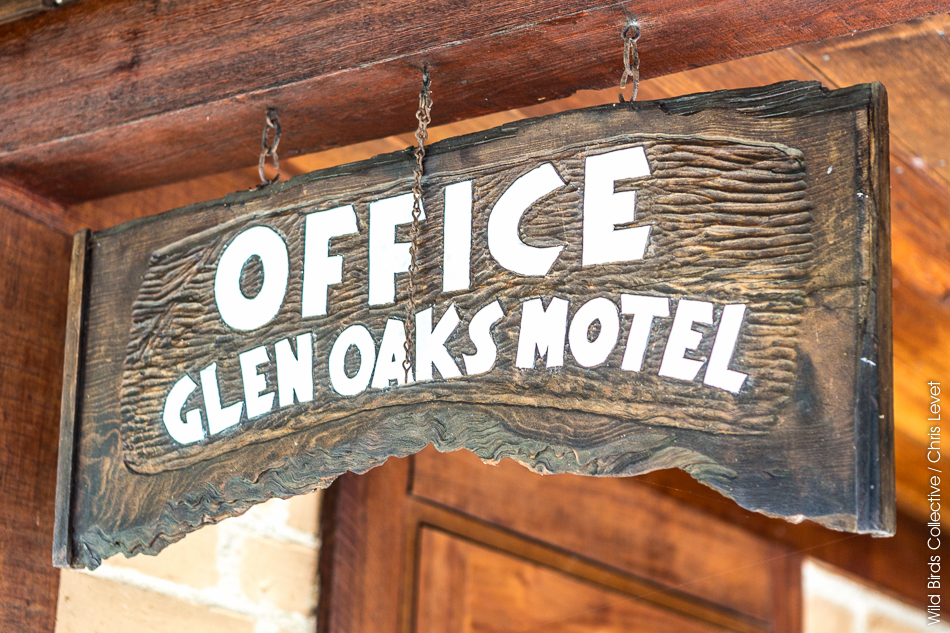 Dans la région de Big Sur, le long de la somptueuse côte qui longe le Pacifique entre San Francisco et Los Angeles, vous trouverez plusieurs hôtels.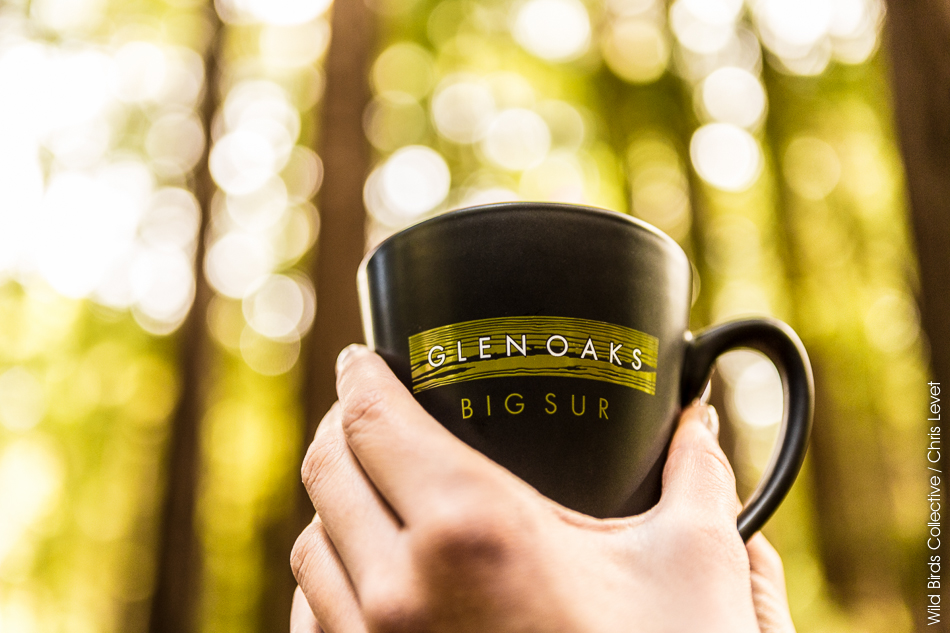 A la recherche de coins insolites pour chacune de nos étapes, c'est sur Glen Oaks que l'on a jeté notre dévolu. Une vraie petite folie mais Glen Oaks fait partie de ces endroits qui font rêver!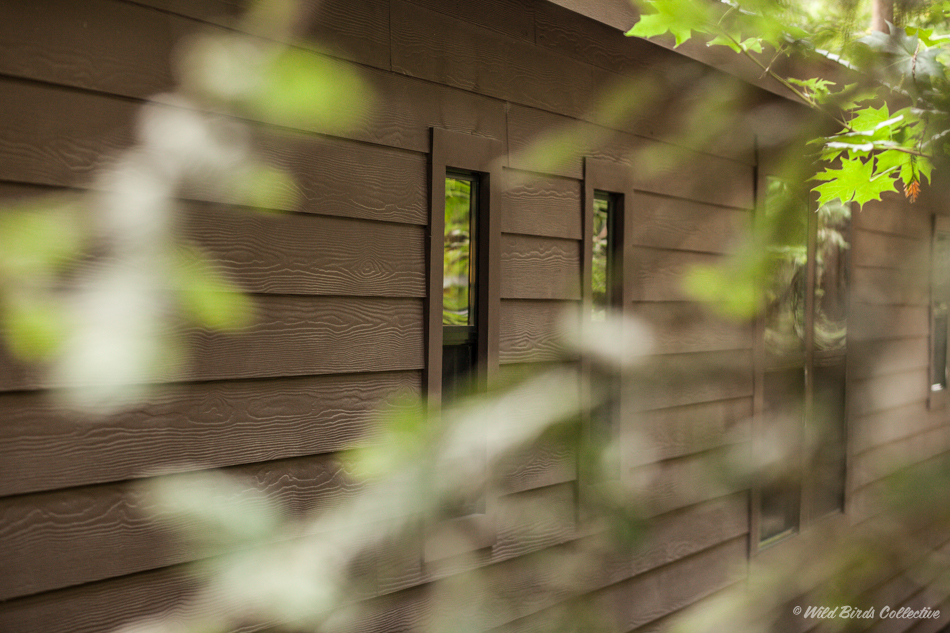 Comme quelques autres dans le coin, ce motel est doté de très jolies petites cabanes en bois. Alors bien sûr, quand on vous parle de petite cabane, il ne s'agit pas d'une petite bicoque de trappeur perdue dans le Grand Nord où seul résonne le hurlement des loups. L'esprit est là mais le luxe en plus.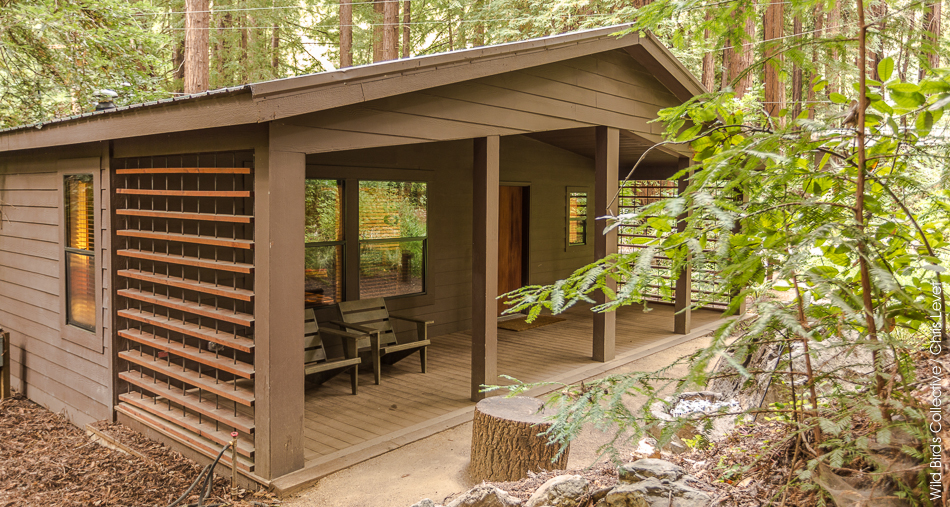 Nichées dans une magnifique forêt de séquoias en bordure de rivière, les cabanes sont spacieuses et très joliment décorées. Plus qu'une simple chambre d'hôtel, ce sont de véritables petits studios: grande chambre avec salon, kitchenette, vaste salle de bains et tout le nécessaire pour vivre votre petite vie au cœur de la forêt.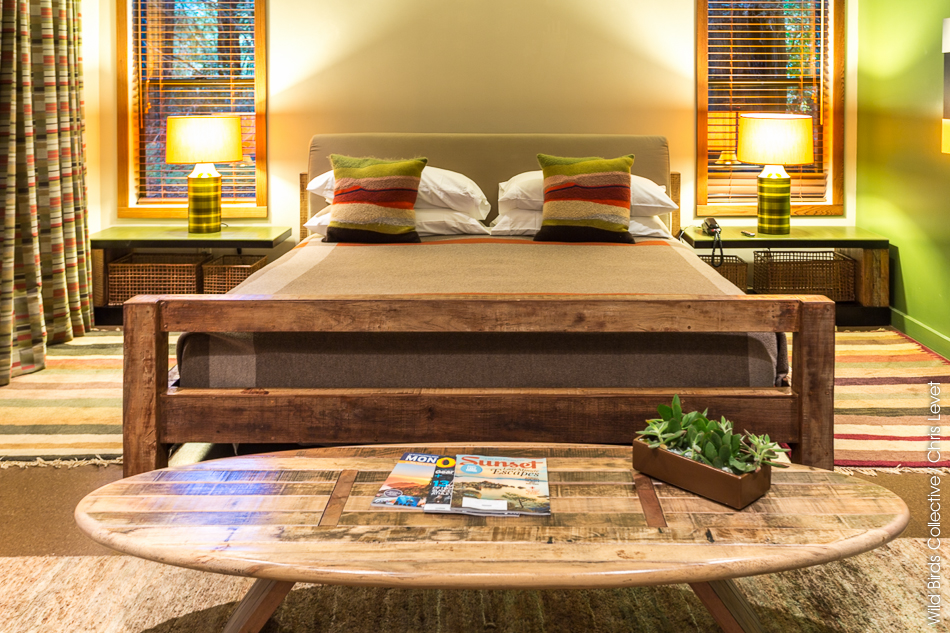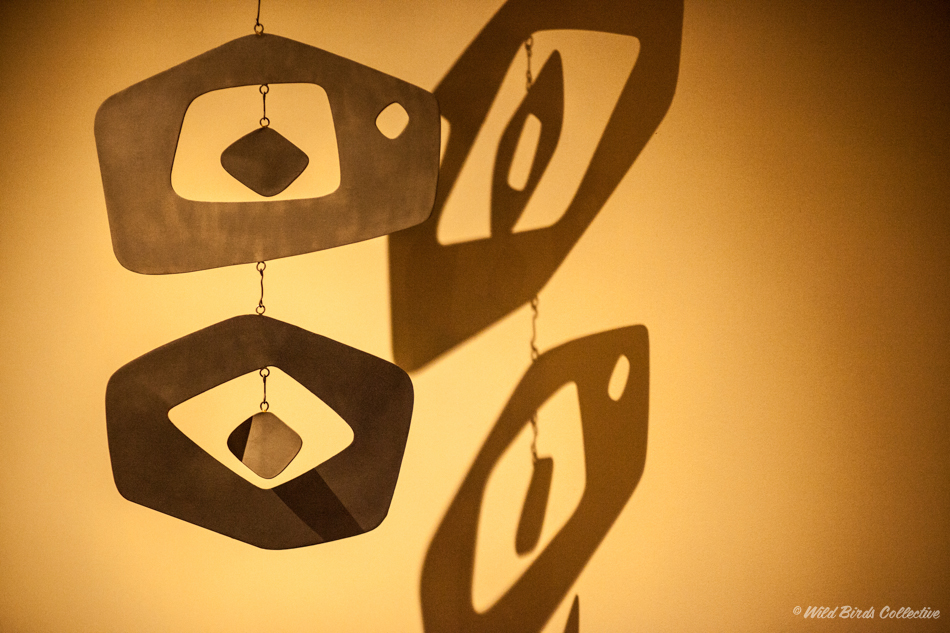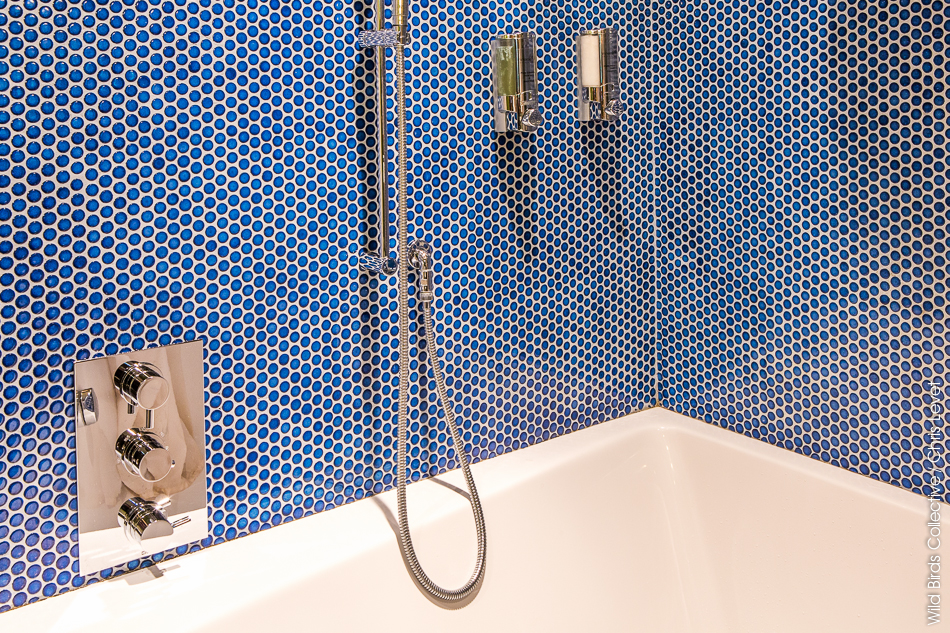 Le petit plus, juste à l'extérieur de la cabane, sous le porche vous pourrez vous blottir au coin du feu. Dans de jolis fauteuils, vous profiterez de sa chaleur, tout en écoutant son crépitement. Tout est prêt, vous n'aurez qu'à craquer l'allumette. Pour l'alimenter, quelques buches sont entreposées non loin de là. Oui, là aussi on vous rassure, vous n'aurez pas besoin de partir couper du bois!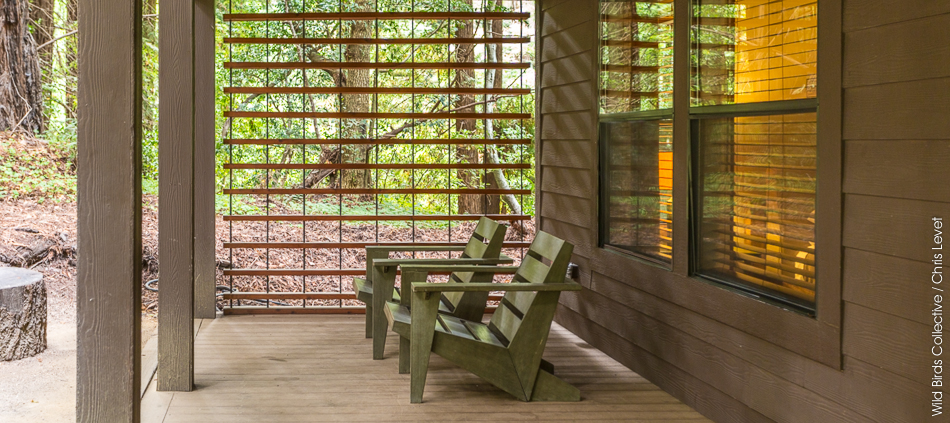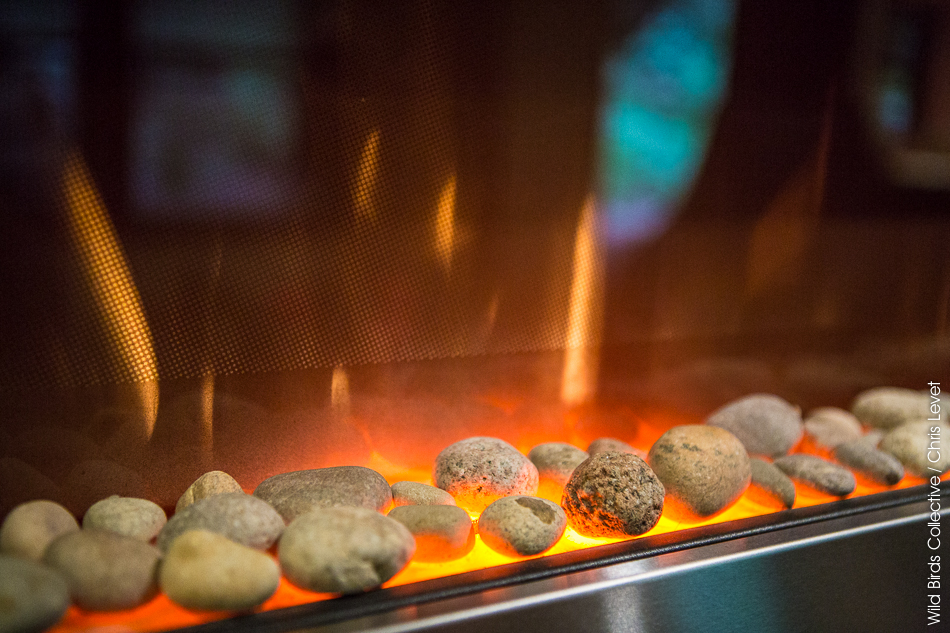 Le lieu est hyper confidentiel et très paisible. Si vous prêtez attention, vous pourrez voir l'oiseau bleu! Vous l'entendrez d'abord marteler l'écorce des séquoias avant de le voir. Habitant du coin et très présent sur la côte, le Geai de Steller est un superbe oiseau bleu à crête que l'on a affectueusement surnommé Woody en référence au célèbre pic vert car vous le verrez dans notre prochain article sur notre voyage aux US, il lui est très ressemblant ( bon même si en fait, c'est un geai et qu'il n'est pas vert! Oui on s'appelle Wild Birds Collective mais ce n'est pas pour autant qu'on s'y connait en noms d'oiseaux! ).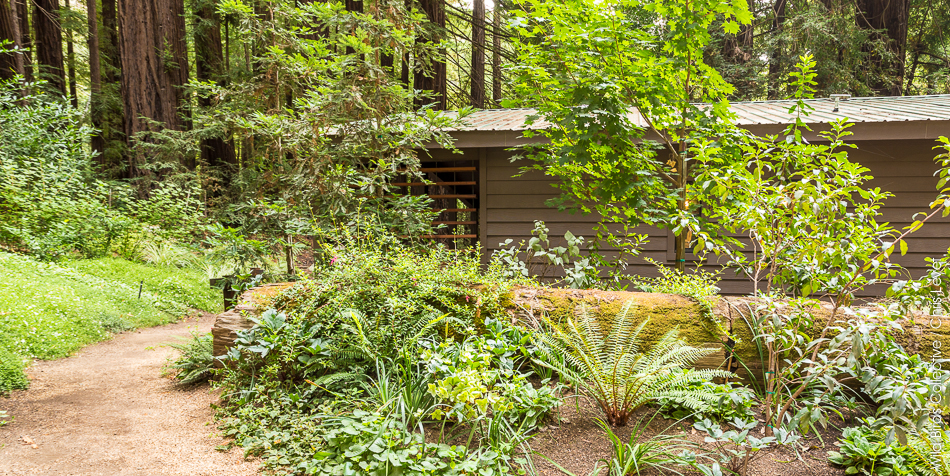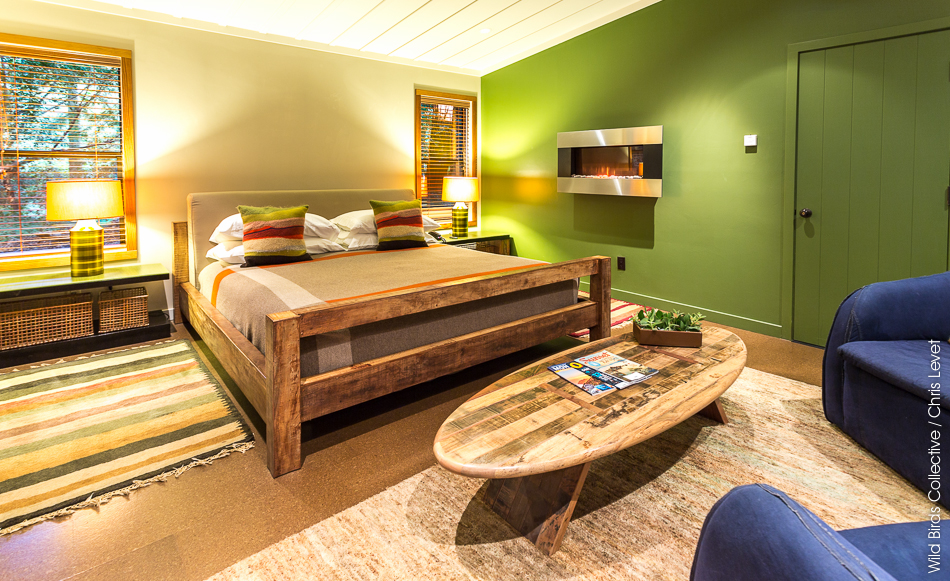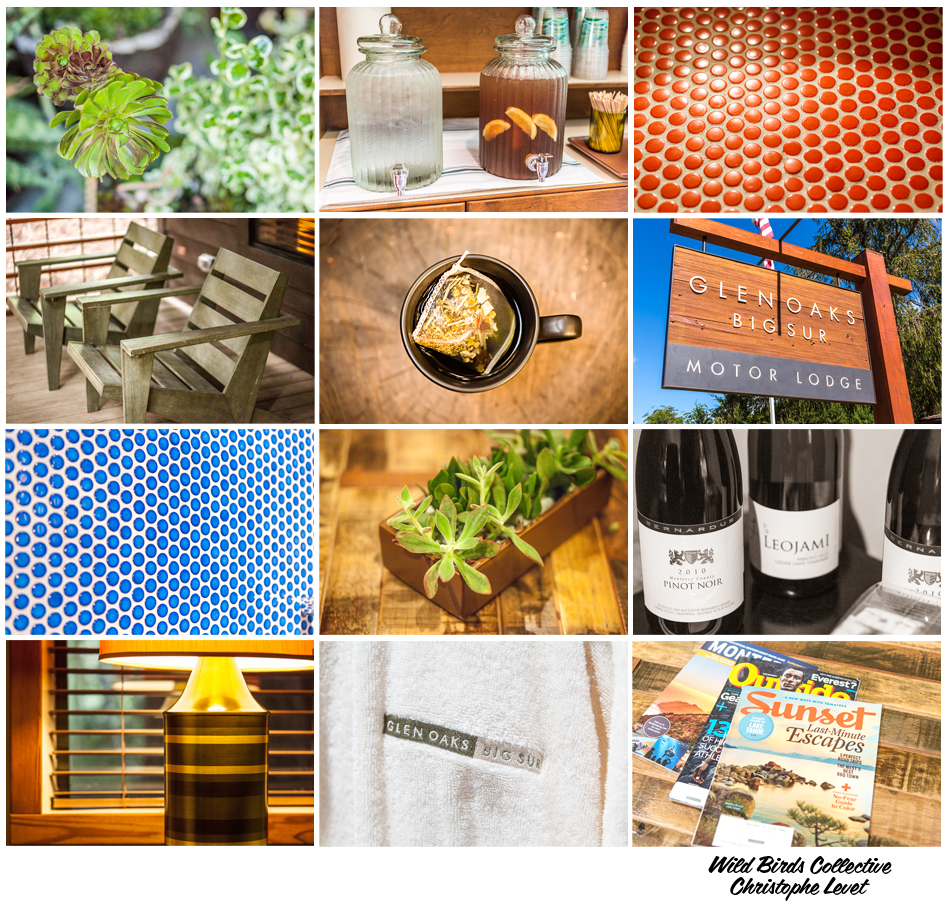 Nous avons chois la cabane avec vue sur la forêt. Mais il existe plusieurs tailles de cabanes avec des ambiances différentes. En plus de la partie motel, il y a aussi un restaurant au bord de la Highway One.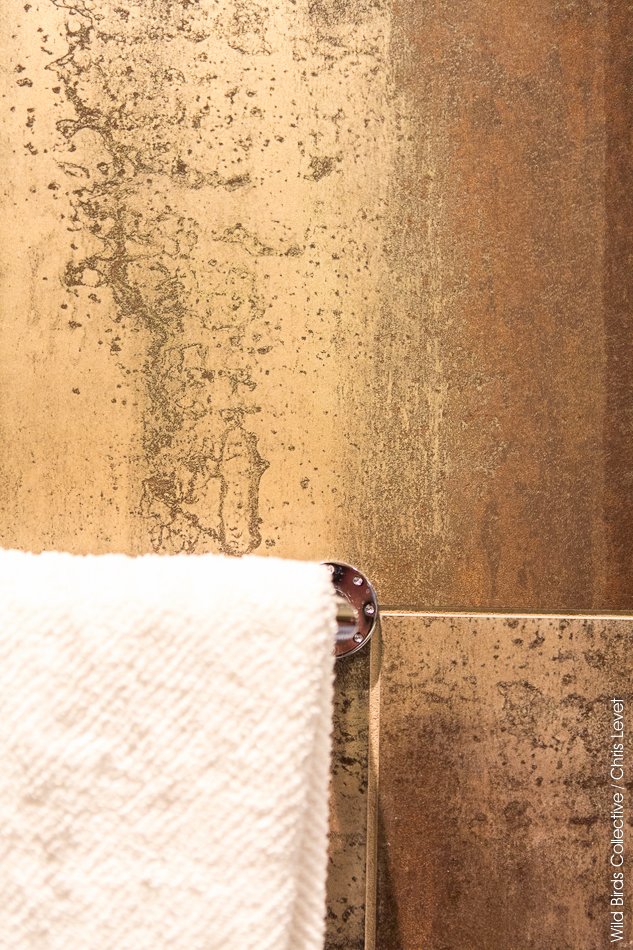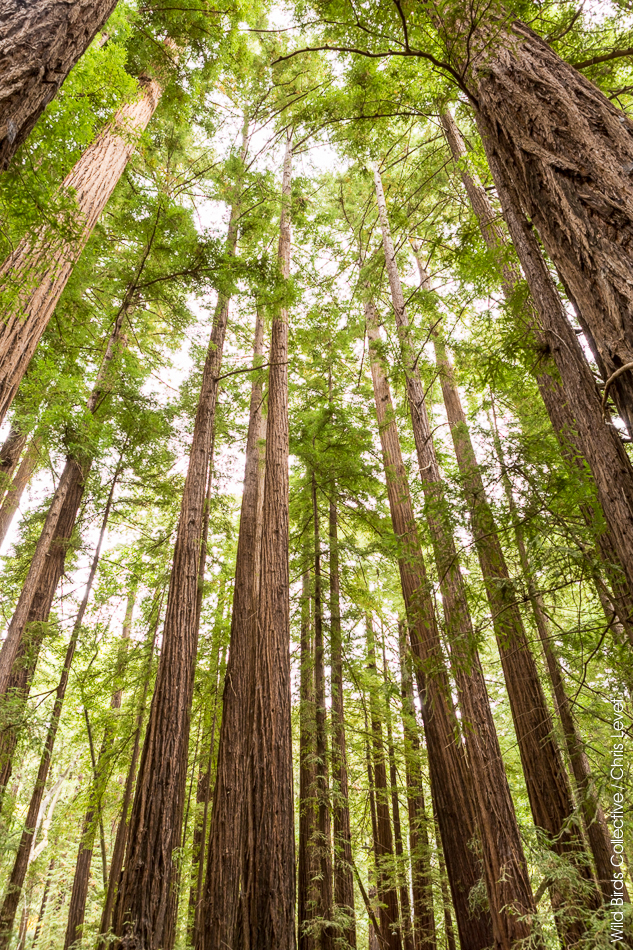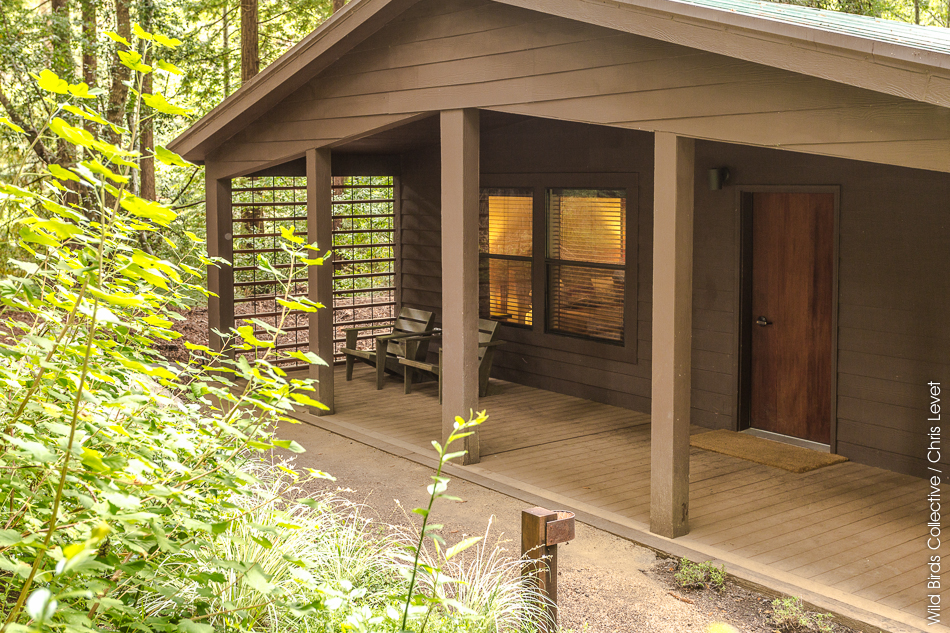 Glen Oaks, s'inscrit parfaitement dans le paysage sauvage de Big Sur. A la fois rustique et très moderne. La nature est présente partout. Confort et charme assuré!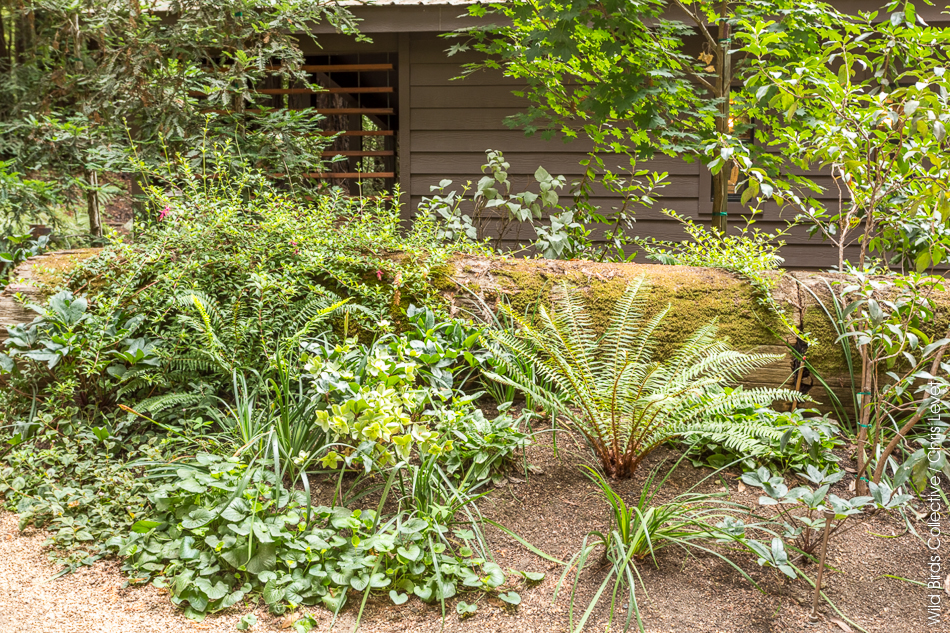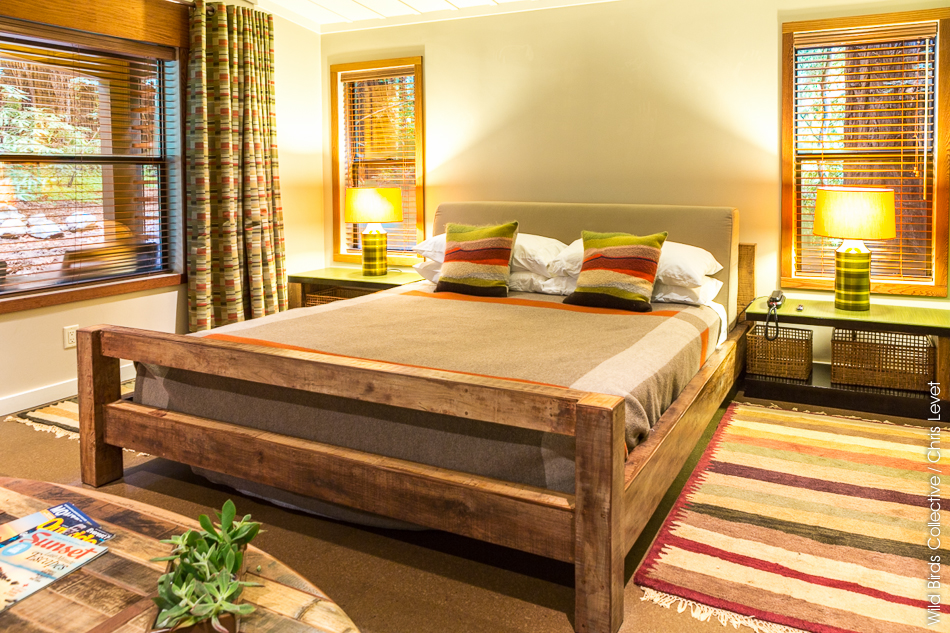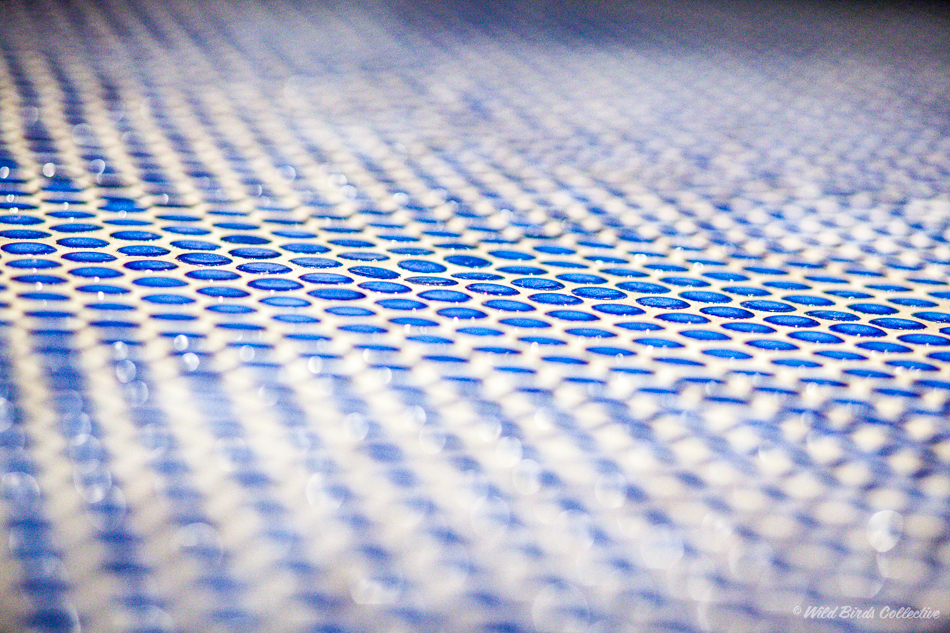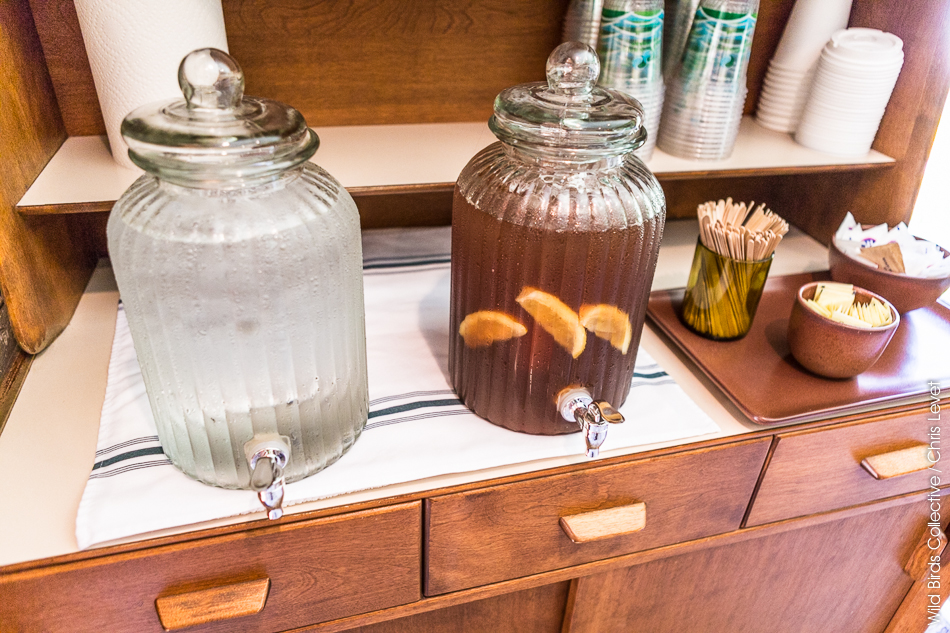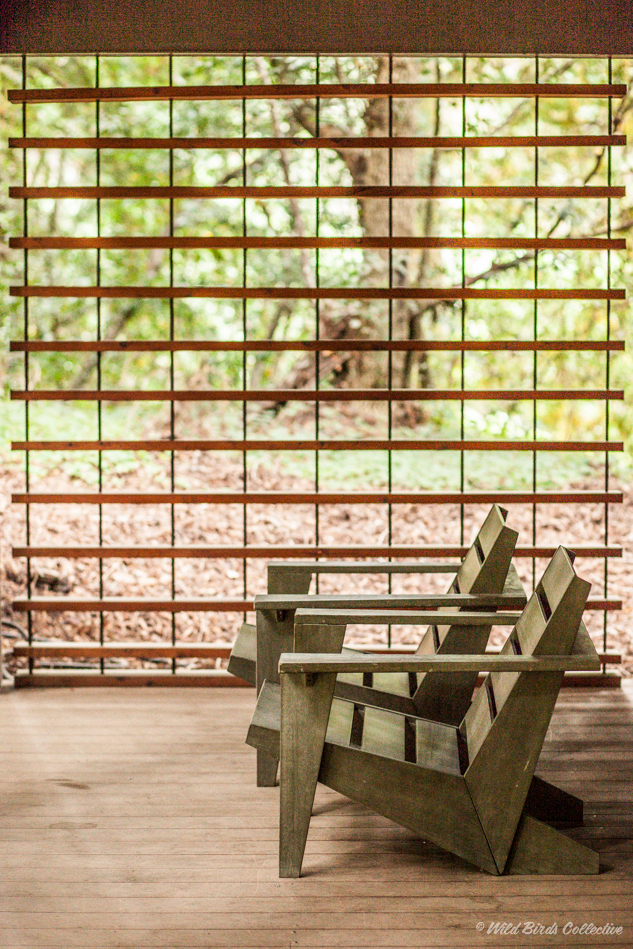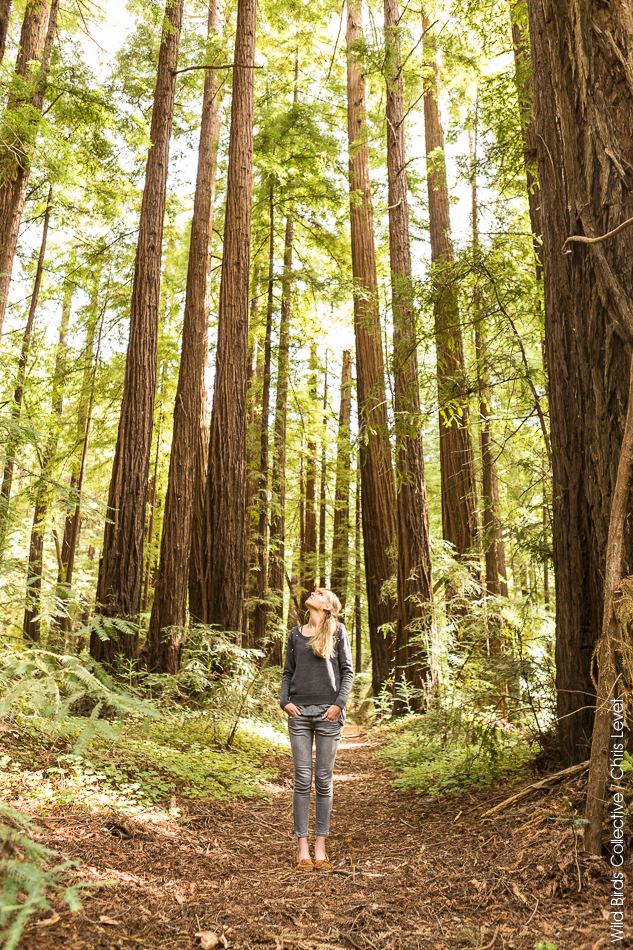 Pour plus d'informations: Glen Oaks
Photos © Christophe Levet 
---
English version: Today, we talk about a beautiful californian motel where we have sleep a night during our last road trip.
In the Big Sur area, along the Pacific Coast, between San Francisco and Los Angeles, you can find severals hotels. But we want to find special places for each step of our travel so we chose Glen Oaks Motel. A dreaming place!
Like few other hotel in this area, the concept is based on lodging in beautiful wooden cabins in a redwood forest near the river. Being in the wildness but without forgetting the luxury and comfort. The cabins are spacious and the decor is beautiful: a great bedroom with a living room, a little kitchen, a large bathroom and all the necessary to live your life in the heart of the forest. You can also make a fire in front of the cabin and enjoy it, comfortably seated in armchairs on the porch. Everything is ready and safe, you just have to crack the match!
The place is super confidential and very peaceful. If you are lucky, you can just see a beautiful bird which hammered, with its beak, the redwoods. It's a Steller's Jay. 
We chose the redwood cabin with forest view. But there is several sizes of cabins with different atmospheres. In addition to the motel rooms, there is also a restaurant on Highway One.
Glen Oaks, fits perfectly in the area of Big Sur. At once rustic and modern. Nature is everywhere. Charm and comfort guaranteed! For more information: Glen Oaks
---
Pour découvrir nos articles sur la Californie – To discover our posts about California :
You might also like