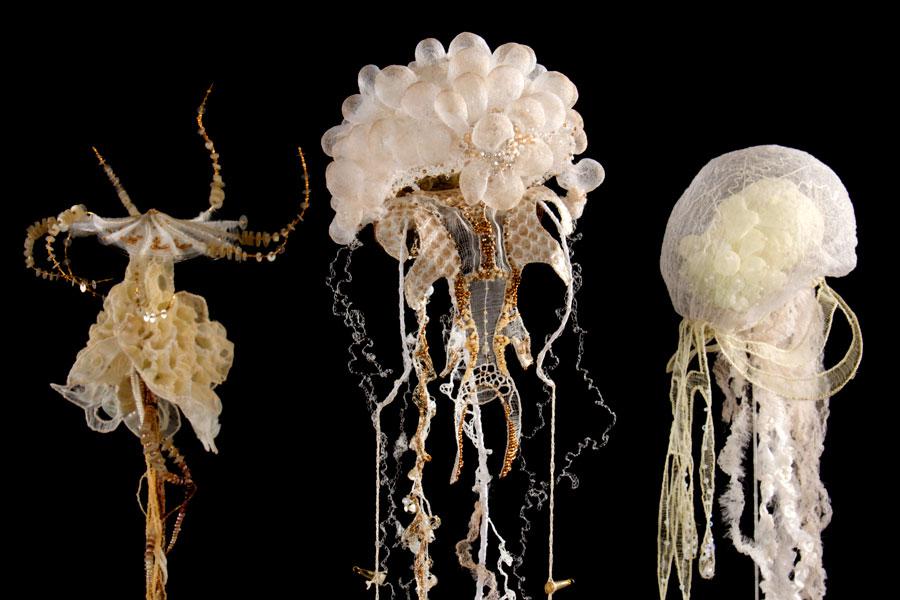 Wild Birds Collective est envouté par l'univers fantasmagorique des « Chimères » de la créatrice textile et brodeuse indépendante Emmanuelle Dupont.
Cette jeune artiste qui travaille pour la Haute Couture, exprime sa sensibilité et sa poésie au travers de très fines aiguilles. Elle est diplômée des métiers d'art textile en broderie et lauréate de nombreux concours depuis 2005. Elle a notamment remporté le prix Liliane Béthencourt pour l'Intelligence de la main en 2008. Puis, dans le cadre de la biennale internationale du design de Liège, le prix « design nature » en 2010.
C'est au cœur d'un petit village du sud de la France que travaille et s'inspire Emmanuelle Dupont. Toute en finesse et précision, elle crée un univers onirique où s'entremêle végétal et animal pour créer une chimère. Réel et rêverie se confondent pour laisser apparaitre des êtres surnaturels, aquatiques ou terrestres. Emmanuelle Dupont intègre à ses sculptures des éléments que la nature offre tels que des ailes de papillon, carapaces d'insecte, os ou mues de serpent.
Ses recherches textiles subliment les points traditionnels de la broderie, tout en innovant tant au niveau visuel que tactile.
Si vous souhaitez en savoir d'avantage sur son œuvre, courrez visionner ce reportage: tv5.org
Et n'hésiter surtout pas à visiter son très beau site: emmanuelle-dupont.com
Pour découvrir d'autres créateurs des différents métiers d'art : intelligencedelamain.com
All rights reserved © Emmanuelle Dupont
English version: Discover the phantasmagorical universe of the textil designer and independant embroideress: Emmanuelle Dupont. This young artist expresses her sensibility and her poetry through to very fine needles. She is graduated of the professions of textile art in embroidery and prize-winner of numerous competitions since 2005. She is based in a small village of the South of France and her work is very inspired by this place. Quite in delicacy and precision, she creates a dreamlike universe where animal and plant are mixed to create a chimera. Reality and dream become confused to leave appear supernatural, aquatic or earthly beings. Emmanuelle Dupont integrates into her sculptures the elements which the nature offers such as wings of butterfly, shell insects, bone or snake moldings. At the same time, her textile researches sublimate the embroidery stitches traditional and innovate both visual and tactile. 
If you want to know more about her work, watch the report: tv5.org
And especially do not hesitate to visit her beautiful website: emmanuelle-dupont.com
To find other artists of different crafts art:  intelligencedelamain.com
You might also like