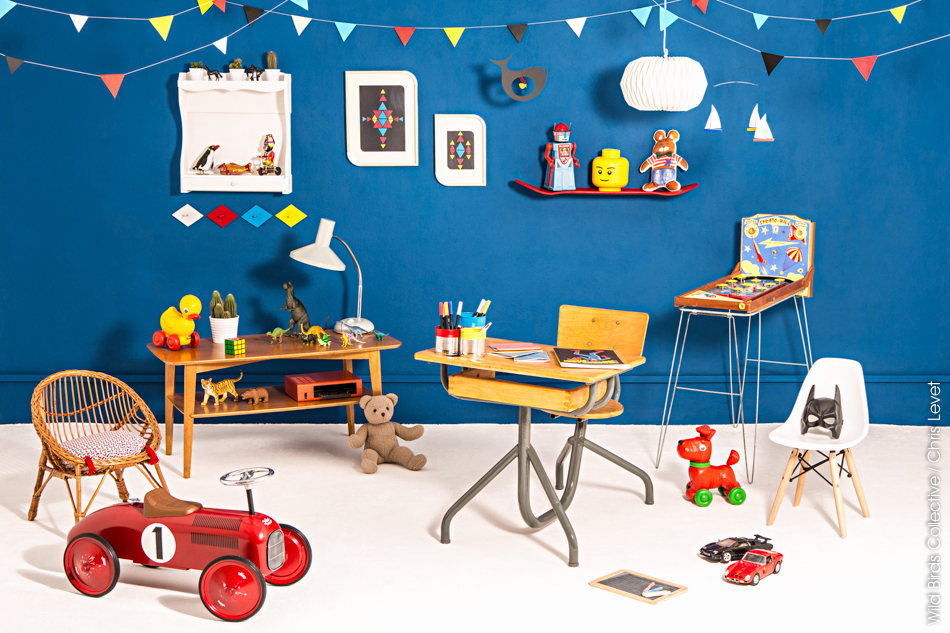 Comme promis voici le reste des photos de notre mise en scène Blue Room. Aujourd'hui, on s'attarde sur les détails de la décoration de cette jolie chambre pour enfants!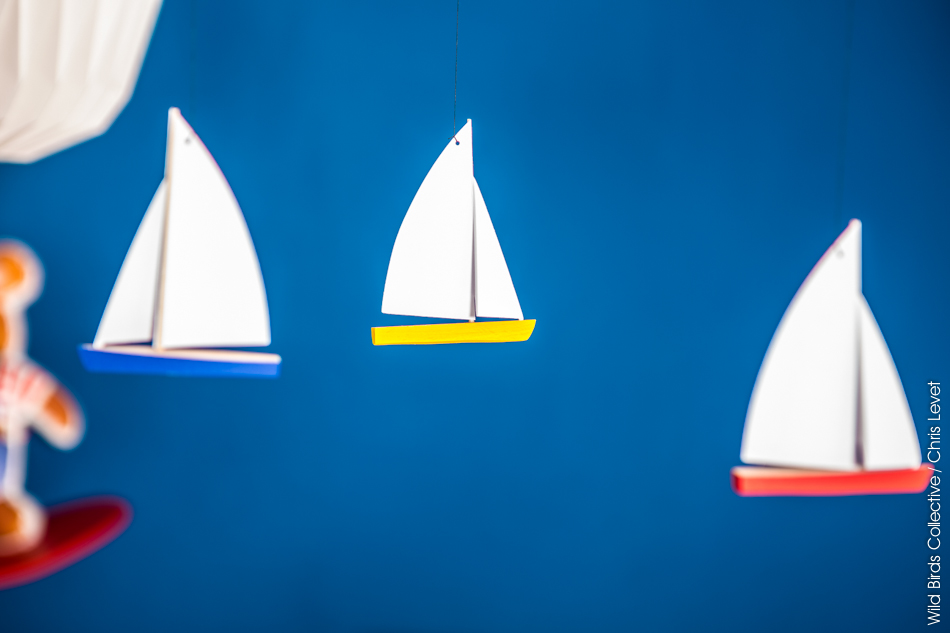 Du jaune, du bleu, du rouge et quelques touches de blanc pour les couleurs.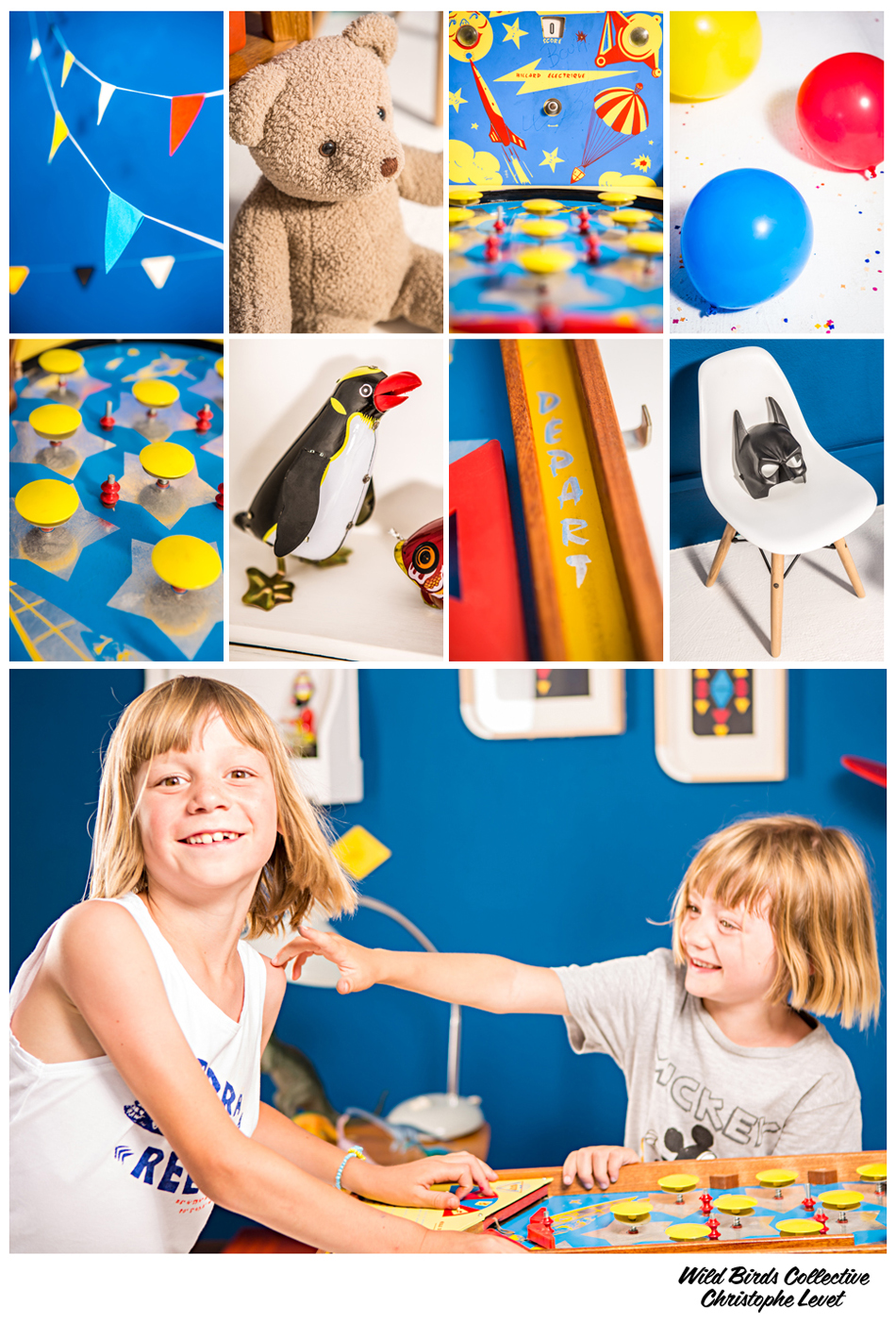 Un très joli Flipper vintage pour s'amuser comme des petits fous!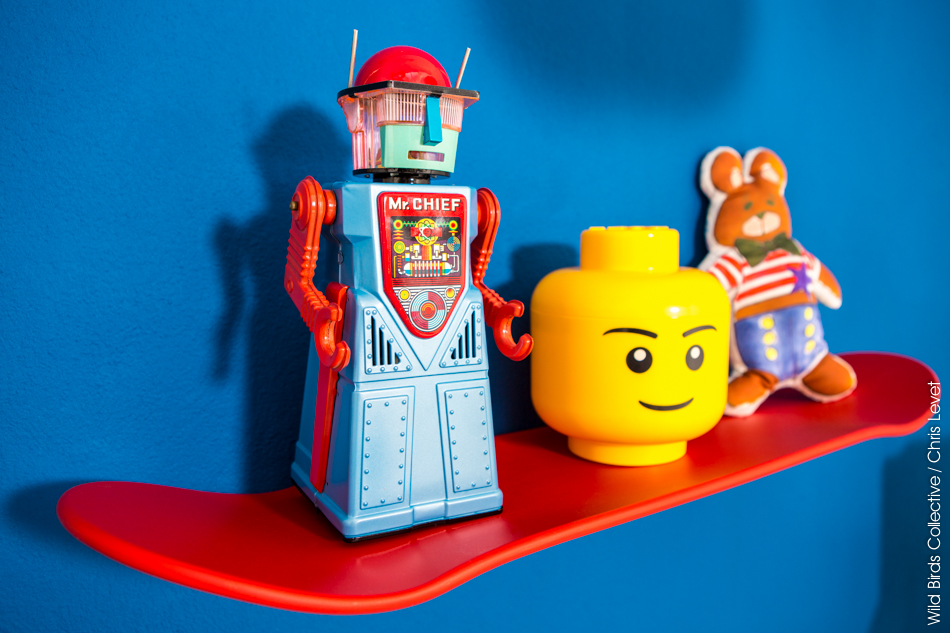 De beaux objets de déco, comme ce joli robot emprunté à la boutique FAB, l'étagère skate et la boîte Lego gentiment prêté par Pas Sage Obligé et un Lovely Doudou tout doux crée par Stéphanie.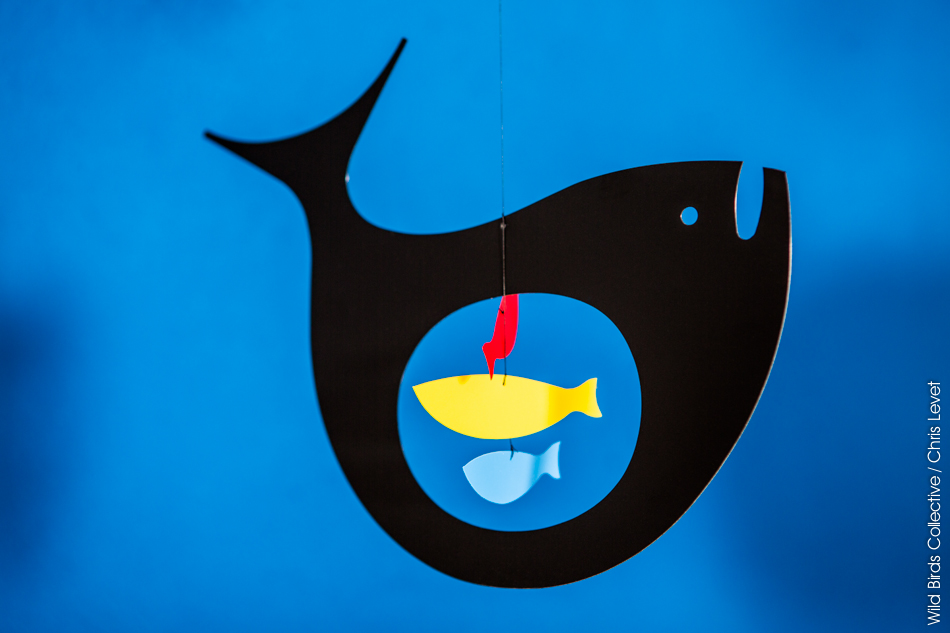 De merveilleux mobiles comme cette baleine disponible chez Matière Première flottaient dans les airs.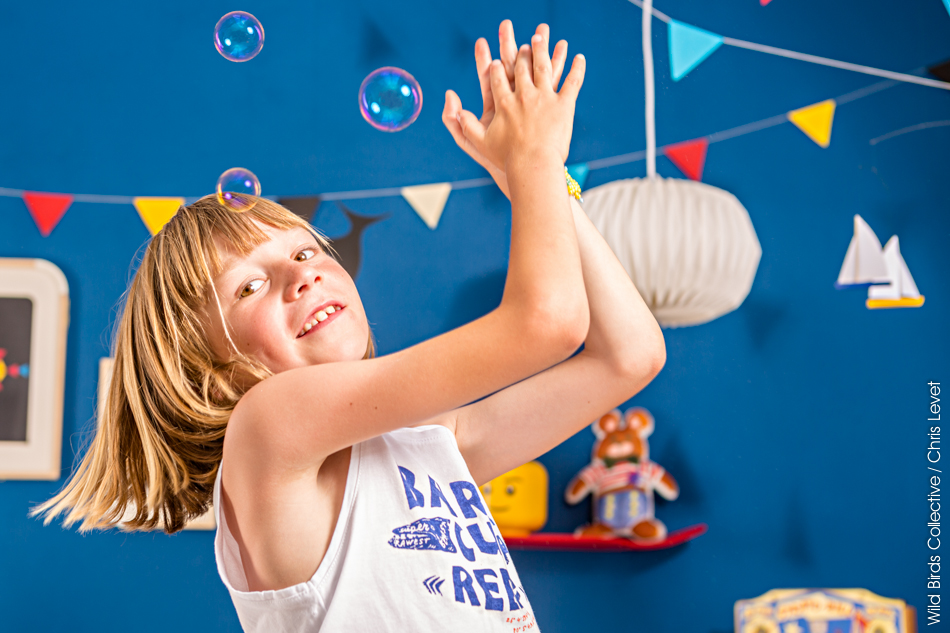 Pendant cette belle après midi de shooting, on a fait beaucoup de bulles de savon et lancé pleins de cotillons.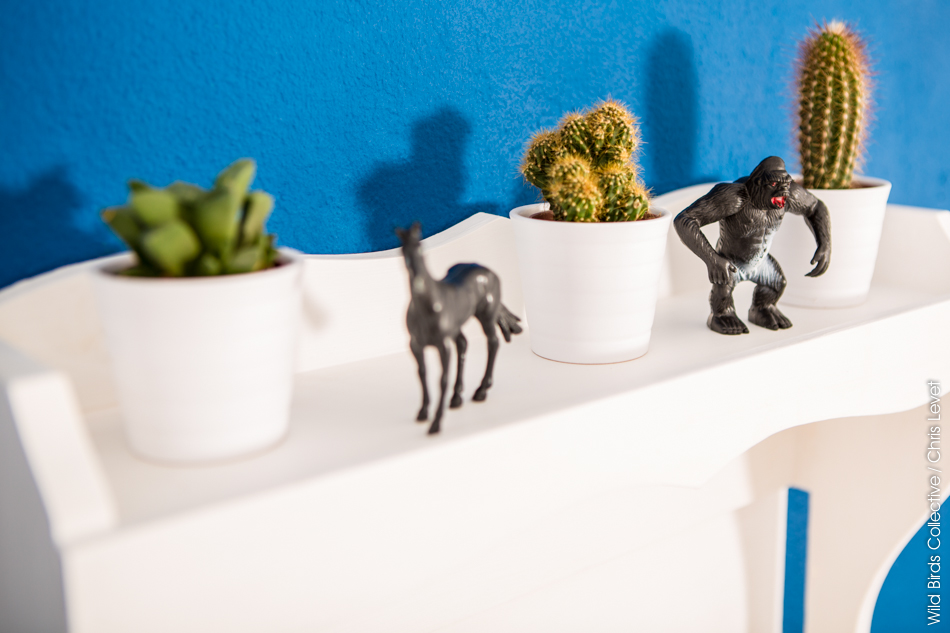 Il y avait aussi quelques figurines d'animaux à côté de jolis petits cactus.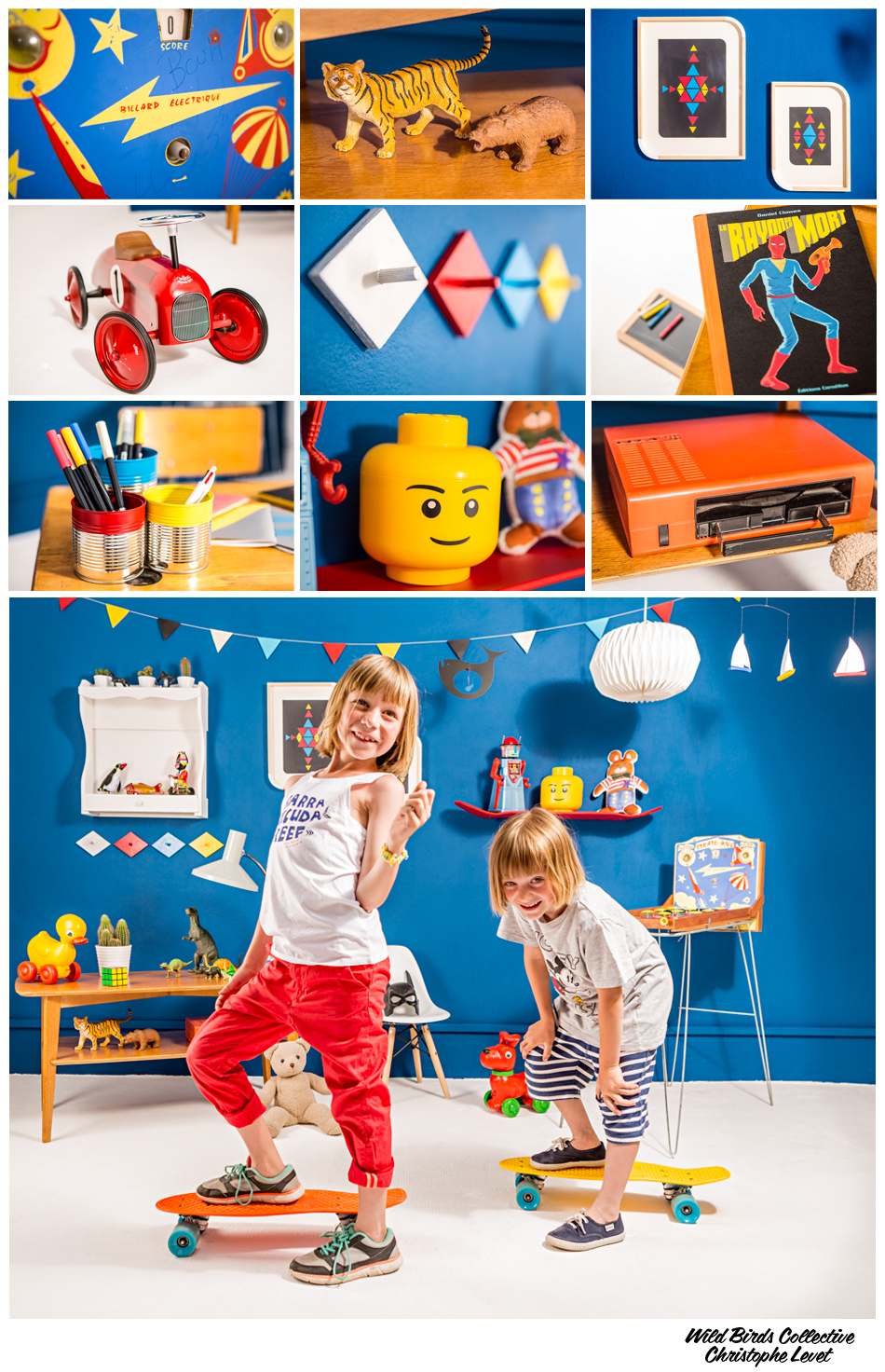 On a même eu le droit de faire du skateboard!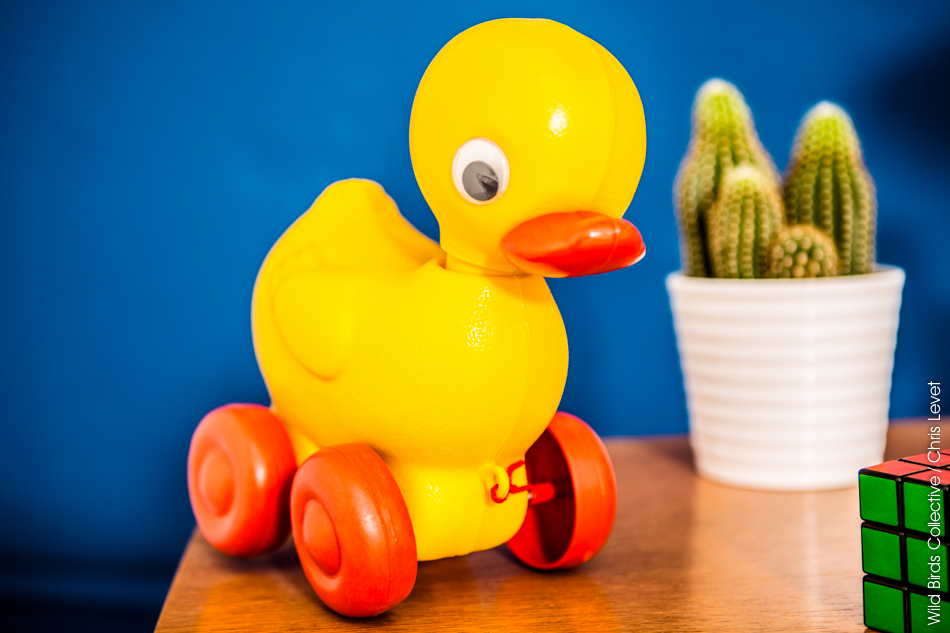 Coin-Coin était de la partie aussi!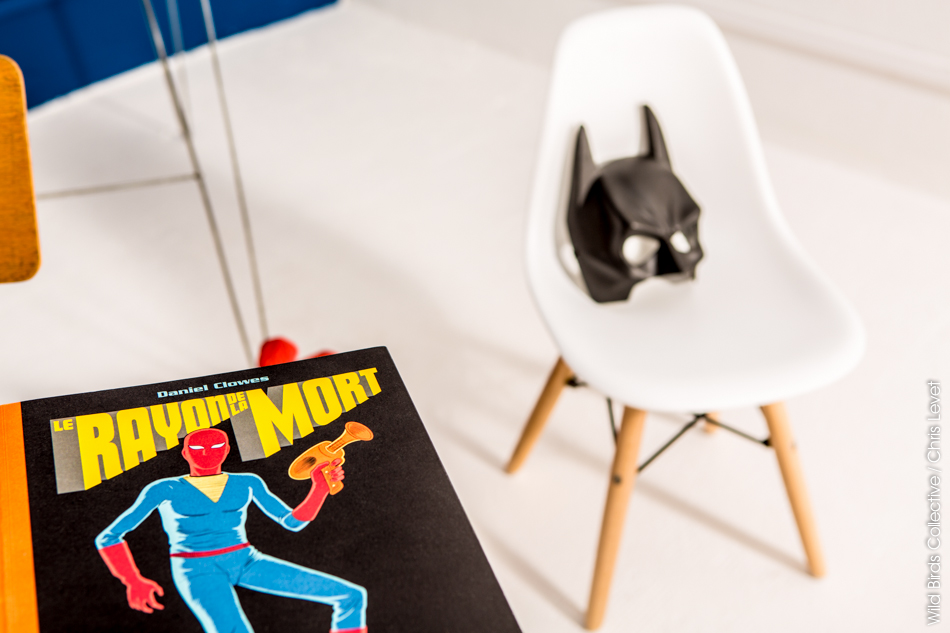 Sans oublier Batman et les supers héros.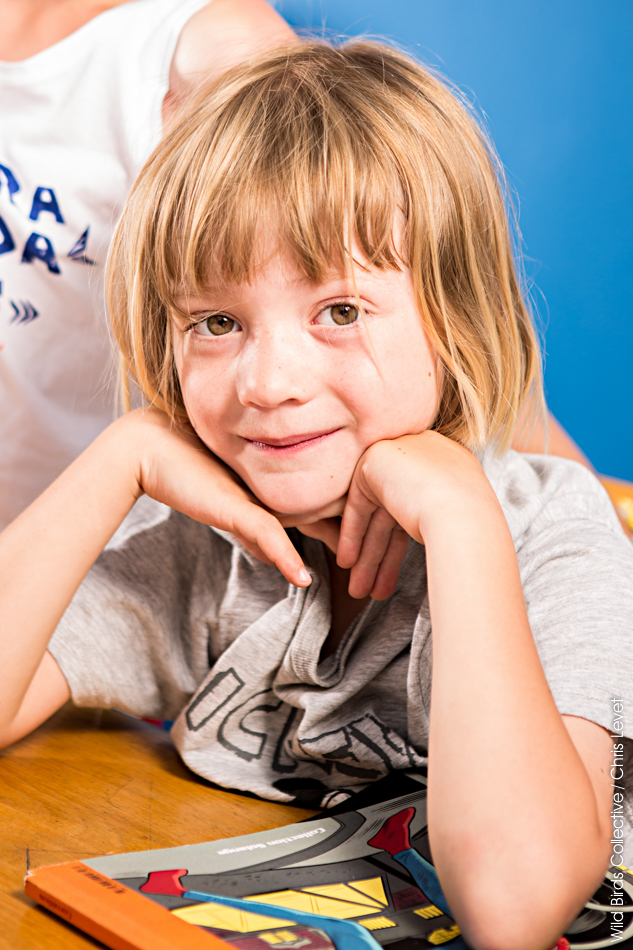 On a tout de même été un peu studieux!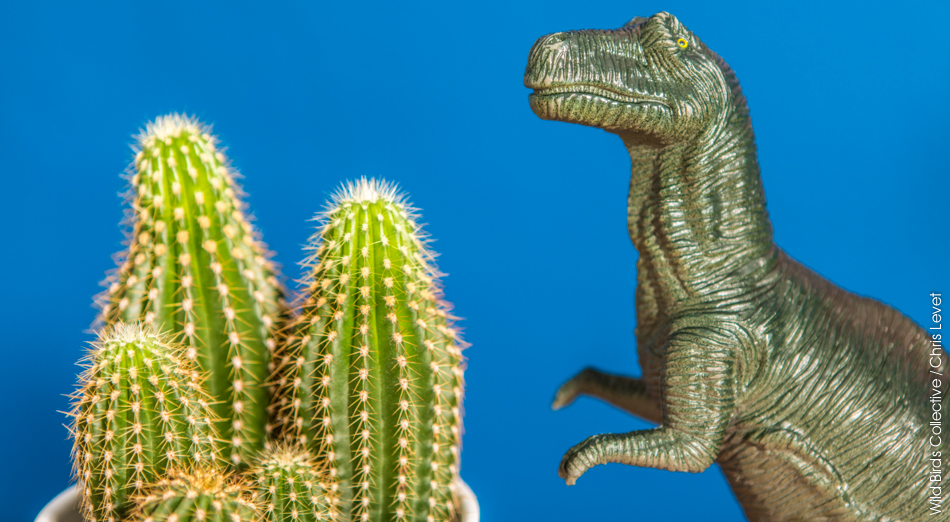 Les dinosaures ont tenté un remake de Jurassic Park.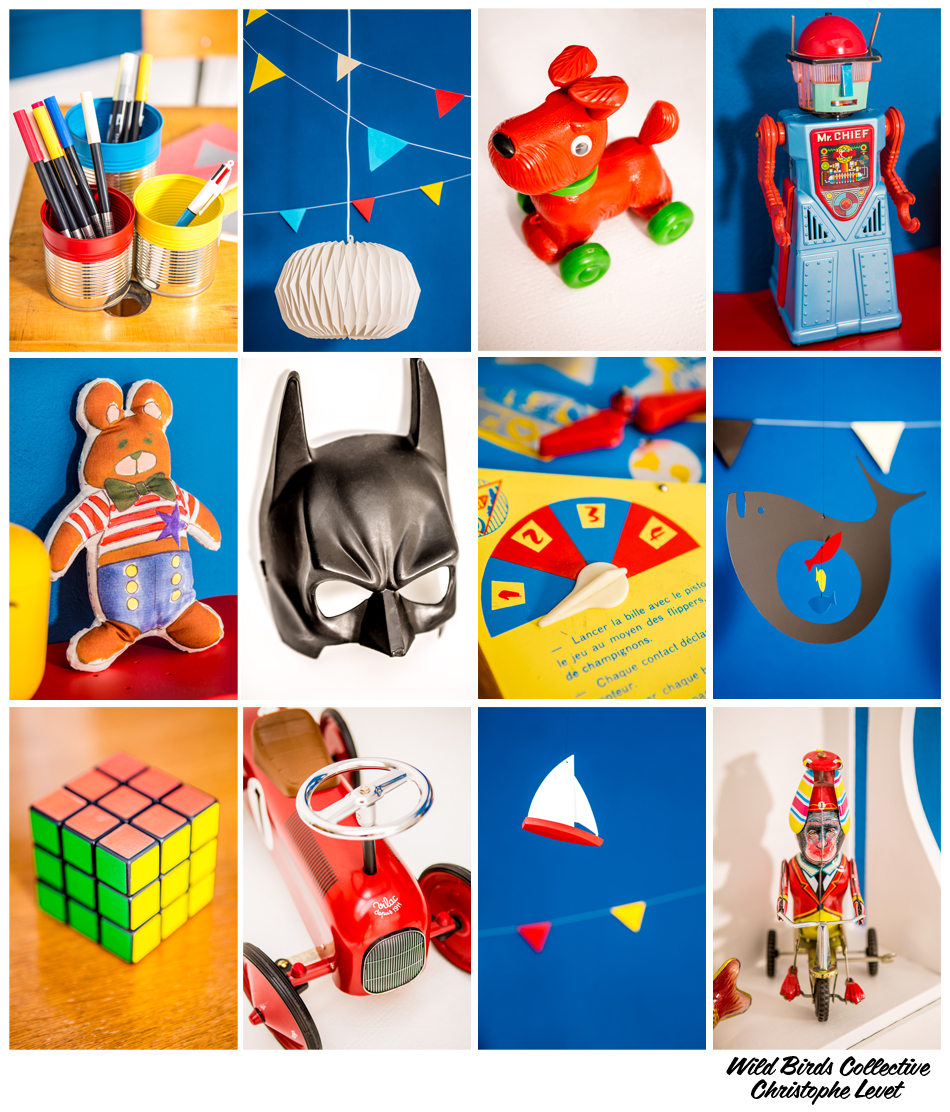 Parmi tous ces jouets et ces jolis objets, il y avait aussi plusieurs DIY: des pots à crayons, des carnets, des fanions, un coussin, des patères et de beaux tableaux graphiques.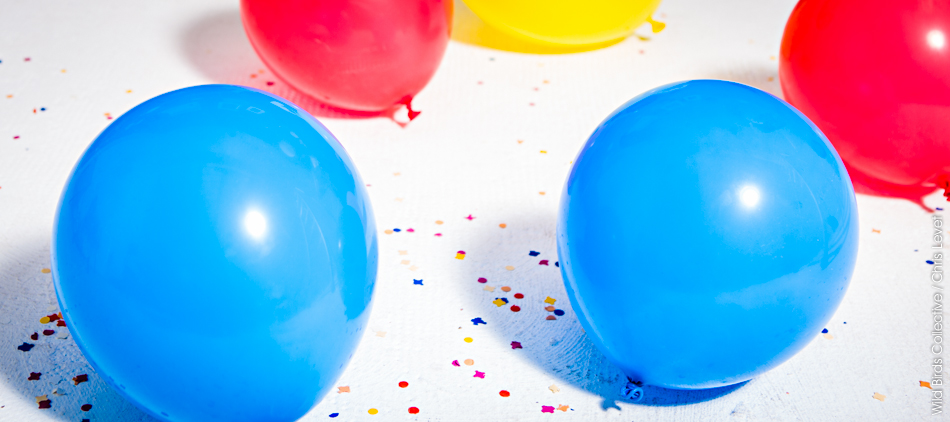 Comme c'était la fête, en plus des cotillons, on a lancé des ballons.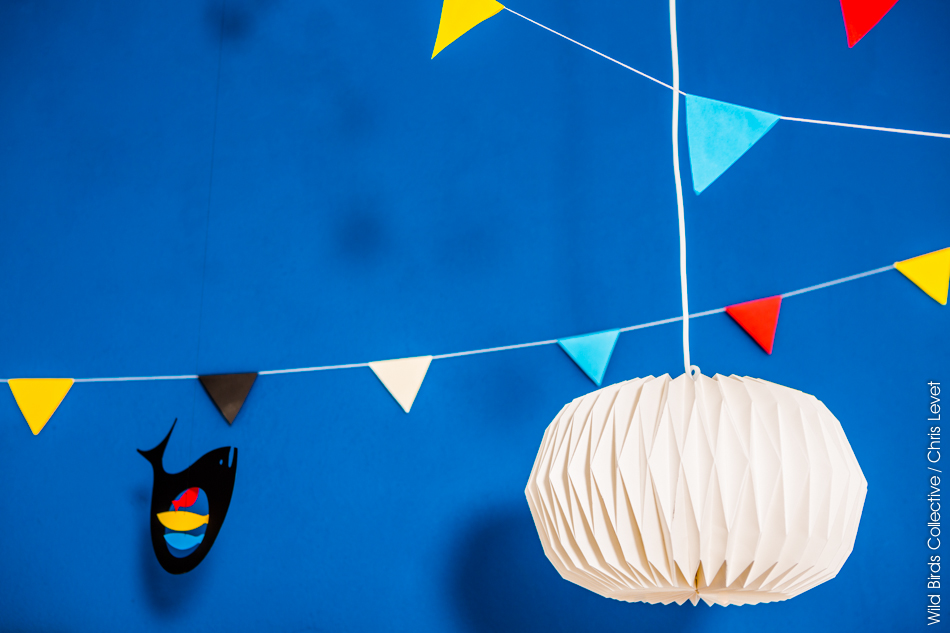 Il y avait de jolies guirlandes au plafond et une magnifique lampe origami.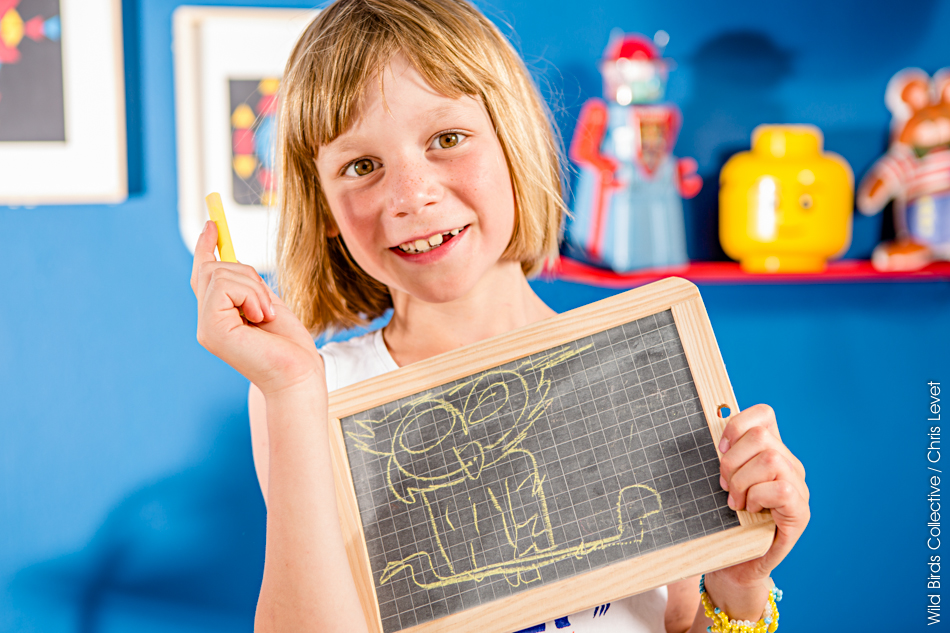 On a fait pleins de beaux dessins!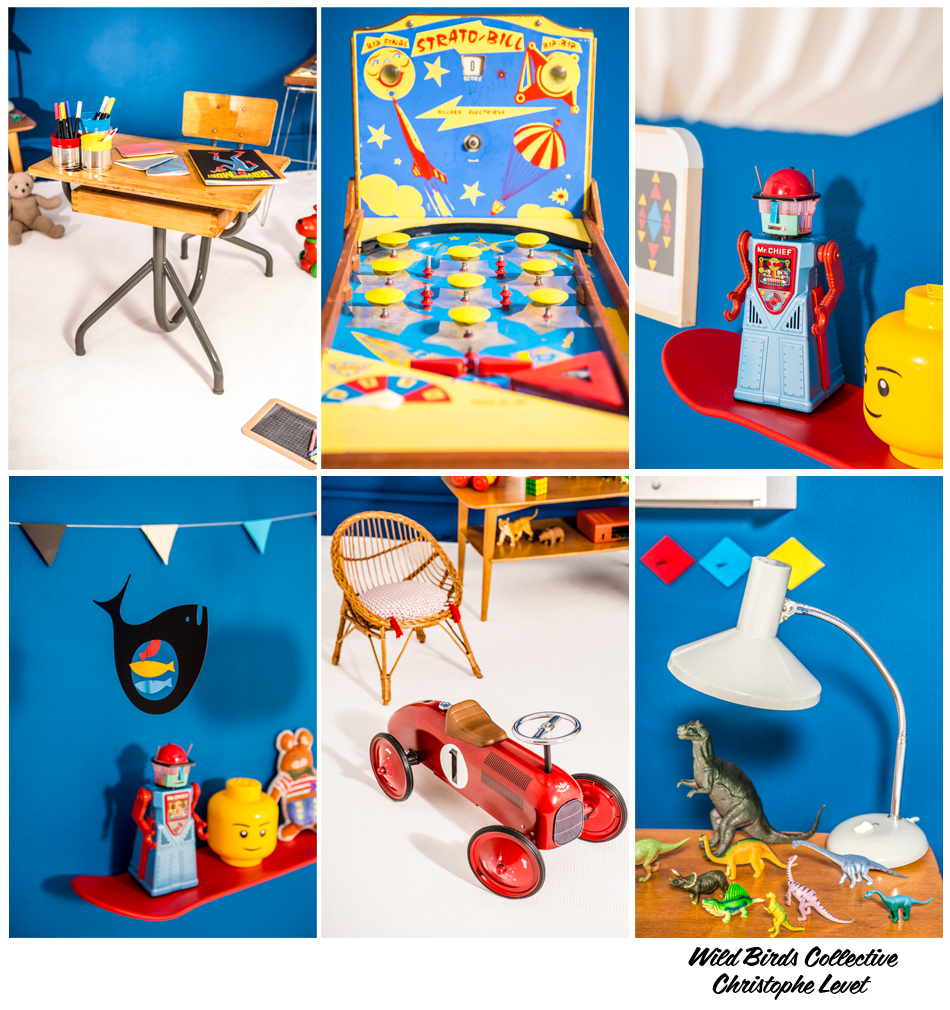 Bref, on s'est bien amusé! 🙂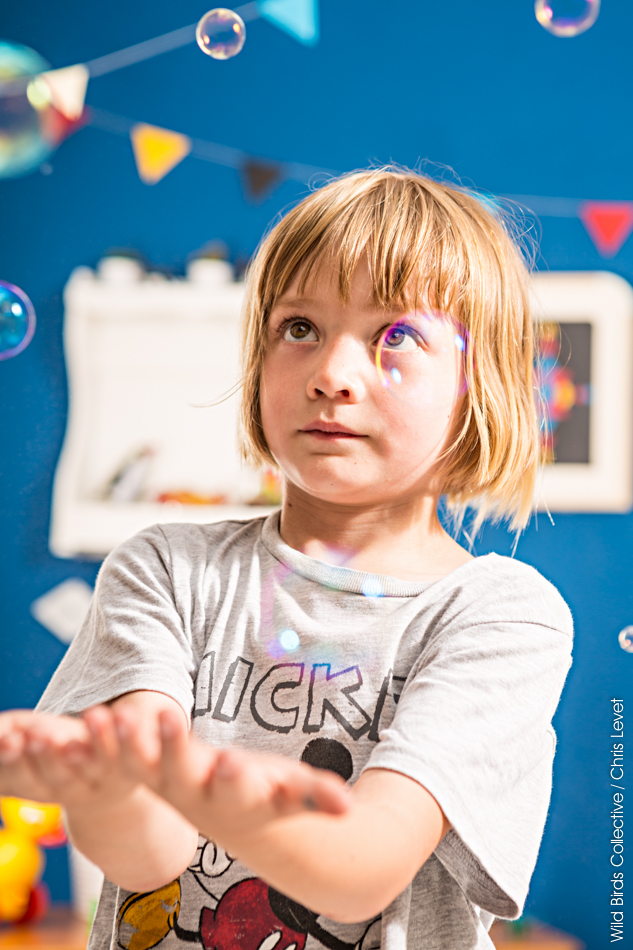 Mille mercis à nos partenaires sans qui nous n'aurions pas pu réaliser cette décoration, ainsi qu'à nos deux petites têtes blondes et leur maman pour cette folle journée!
Lancelot & Magellan : Vêtements perso
Peinture murale bleue pétrol : CAPP
Voiture rétro Vilac : Smallable
Cadres vierges : Ikea
Table basse vintage : Le Boucl'art
Mobiles baleine et bateaux – Figurines animaux en métal : Matière Première 
Ours Stanislas : Lovely Doudou 
Lampe origami – Etagère skateboard – Boîte Lego – Chaise Eames pour enfant : Pas Sage Obligé
Robot – Canard et Chien à roulettes : FAB
Bureau d'écolier – Flipper vintage – Lampe de bureau rétro – Etagère en bois – Tourne-Disque – Fauteuil enfant en osier : Vintage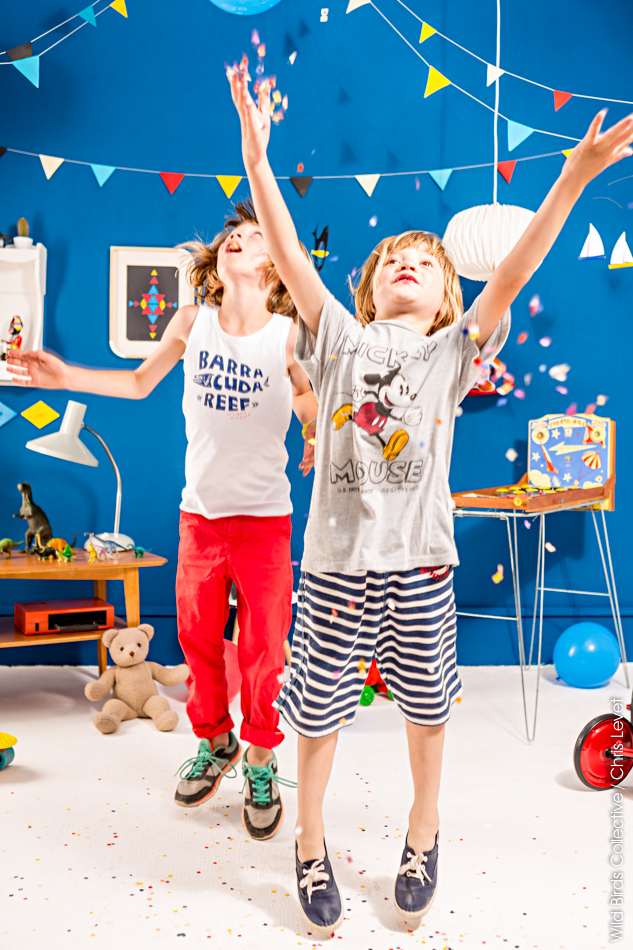 Nous sommes toujours à la recherche de partenaires et sponsors. Si vous êtes intéressé, n'hésitez pas à nous faire découvrir vos créations, vos produits et votre marque.
Dernière petite chose, comme d'habitude, afin de pouvoir continuer à créer des mises en scène, nous vendons quelques objets que nous avons chiné. Tous ont une histoire, une patine et c'est ce qui fait leur charme! Le bureau d'écolier a déjà trouvé preneur mais nous nous séparons du joli flipper vintage, du petit fauteuil en rotin enfant pour lequel nous avons réalisé un beau coussin à pompons, de l'étagère en bois blanche entièrement repeinte et de la lampe de bureau rétro grise. Si vous êtes intéressé par un de ces objets, contactez nous par mail à contact@wildbirdscollective.com
On vous dévoile les différents tutoriels déco réalisés pour l'occasion dans les jours à venir!
Pour voir le reste de ce shooting déco : Blue Room : Kids Decor 
Pour découvrir nos autres décors : Scenography
Photographies © Christophe Levet
Mise en scène : Alexandra Sauvage & Violaine Rattin 
Modèles : Lancelot – Magellan
English version: As promised here is the rest of the pictures from our staging Blue Room. Today, we show you the details of the decoration of this lovely children's room!
For the colors: yellow, blue, red and touches of white.
There were antiques as a very nice vintage pinball, a beautiful school desk, a retro desk lamp, a wooden white shelf and a wicker armchair! But also other beautiful decorative objects: a pretty robot, a duck and a dog toys borrowed from FAB shop. The skateboard shelf, the nice origami lamp, the child Eames chair and the Lego box are kindly lent by Pas Sage Obligé. The sweet bear is a Lovely Doudou. The wonderful mobiles as the whale and the boats are available from Matière Première.
There were also several DIY: pencils pots, notebooks, garlands, coat hooks, cushion with tassels and beautiful graphics paintings.
During this photo shoot day, the dinosaurs have tried to invade the scene. Batman and other superheroes were with us. We drew, we did skateboard, we launched party favors and balloons and we made soap bubbles. So we had fun!
A big thank to our partners without whom we couldn't have achieved this work. Thanks also to our two little blonde heads and their mom for this crazy day!
Lancelot & Magellan: Personal Clothing
Blue mural paint: CAPP
Retro car Vilac: Smallable
Blank frames: Ikea
Vintage coffee table: Boucl'art
Whale and boats mobiles – Animal figurines in metal: Matière Première
The bear Stanislas : Lovely Doudou
Lamp origami – Shelf skateboard – Box Lego – Eames chair for children: Pas Sage Obligé
Robot – Duck and Dog toys: FAB
Pinball – Lamp – School desk – Wooden shelf – Child wicker chair – Record player : Antiques
We are always looking for partners and sponsors. If you are interested, do not hesitate to show us your creations, your products and your brand.
A last thing, we sell some items! All are antiques, we put a lot of time to find them and we have chosen them with love. These objects have a story and this is what makes their charm. The school office has already been sold but we sell the pretty vintage pinball machine, the small wicker chair for which we made a nice cushion with tassels, the white wooden shelf completely repainted and the retro desk lamp. If you are interested, contact us by email at contact@wildbirdscollective.com
Soon, we reveal you the explanations of the decorative tutorials made for the occasion.
To see all the pictures of this child's room : Blue Room Decor
To discover our other decors : Scenography
Photographs © Christophe Levet
Decor : Alexandra Sauvage & Violaine Rattin 
Models: Lancelot & Magellan
You might also like